Kia has confirmed at the 2011 IAA Frankfurt Motor Show in Germany that a production version of the Kia GT Concept car will eventually hit the market. This could happen as early as 2013. The new rear-wheel drive sports car will be part of a new sporty direction for Kia in the future.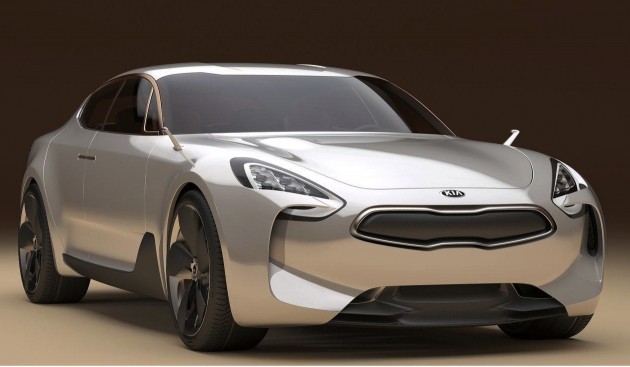 This is great news for us sports car fans, as the Kia GT Concept car is something we'd all love to see hit the road. It features an interesting sports sedan design on the outside and a cool svelte layout on the inside. Perhaps the best element to the Kia GT though is the powertrain.
In concept form, it features a 3.3-litre twin-turbo V6 outputting 290kW and a V8-like 534Nm of torque. Power is channelled through an eight-speed automatic transmission and into a rear-wheel drive layout – a first ever for Kia.
The South Korean car maker is yet to finialise specific details on a production version Kia GT, but a number of sporty models are being planned along with the GT to help bolster a new sporty image for Kia. Kia Europe's chief operating officer Paul Philpott spoke about the new company direction at the Frankfurt show. He said,
"We will develop sporting variants of more models starting with the new C'eed. We want Kia to be known for sport and design and these cars are critical."
Philpott said that a production version of the Kia GT would stand at the top of the range however, saying,
"A halo car like a Kia GT gives the brand greater sporting credentials. It would position the whole range as sporting, not just one model."
Before production of the rear-wheel Kia GT goes ahead, Kia will develop a Volkswagen Golf GTI-type vehicle set to be based on the Kia C'eed. Philpott also said that more sports models could be developed in the future,
"There's a lot of space between a hot hatch and rear drive coupe, and clearly we will look at those niches."
We look forward to seeing what Kia comes up with. As one of the fastest growing car manufacturers, Hyundai's subsidiary brand certainly has plenty of technology backing future projects.
Both Hyundai and Kia have really stepped up many notches in the last few years, bringing out not just competitively priced vehicles, but also quite highly engineered and desirable models. It will be interesting to see how the two companies go in the performance car segment.
What are your thoughts on the subject – would you buy a performance Kia or Hyundai?
(Source: Autocar UK)
Also check out Kia GT Concept details unveiled at Frankfurt show for more details and images on the Kia GT.