Following the reveal of the new Falcon XR6 and XR8 last week, Ford Australia has shown an image of the 2015 Ford Territory which will go on sale later this year.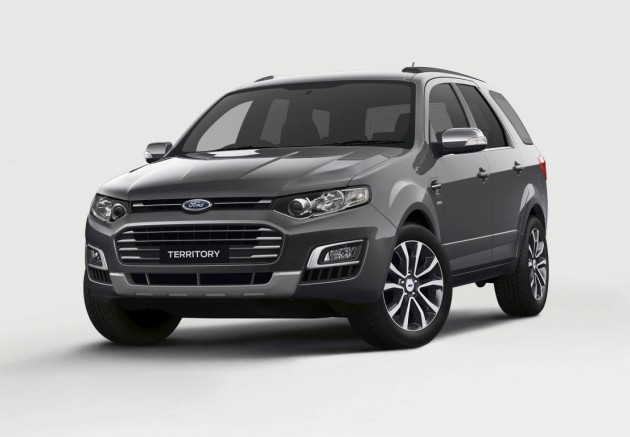 Adopting a very similar exterior design as the outgoing model, the 2015 update isn't as significant, visually, as its sedan sibling. The front end carries over almost identical headlights, however, the grille is now just a single-tier unit. The lower grille area is also more sophisticated and modernised.
Around at the back the 2015 Territory is expected to be pretty much the same albeit with some slightly different taillights and trimming changes. The same can be said for the main torso of the body, with the same door and pillar design carried over.
Aside from the few major exterior updates, Ford says the new model will come with the TDCi turbo-diesel option and the 4.0-litre inline six. Seven seats will also continue on. Nima Nourian, exterior design manager, said,
"Our customers appreciate the functionality, seven-seat capability and fuel efficiency of the turbo-diesel but we also wanted to deliver a new level of visual appeal with the 2014 Territory.

"For 2014 the Territory gains a more robust, yet refined design and you won't mistake it for anything else but a Territory. Visually the surfacing is more architectural and achieves a very cohesive and sophisticated look."
The 2015 Territory and Falcon will be the last models ever before local production facilities shut down in 2016. The project was made possible thanks to a $34 million co-investment deal with the Federal Government and Victorian Government.