A small American supercar car company called Maxximus has come up with a new concept called the Maxximus Prodigy. It's a liquid natural gas supercar which is promising to output around 1600hp (1194kW) using natural fuels. With a price tag of $1 million, it could be the most expensive and first-ever gas-powered supercar the world has ever seen.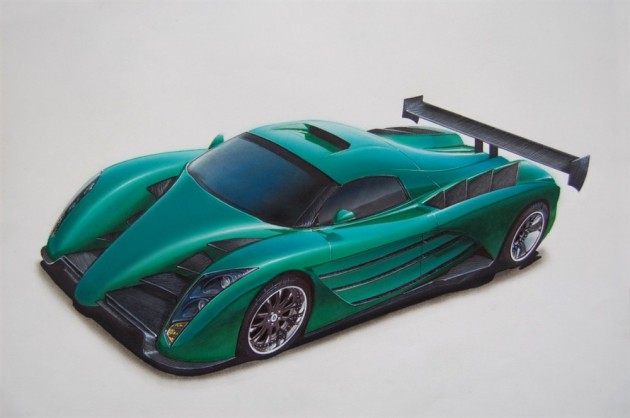 Production plans are still a little hazy at this stage, but Maxximus is serious about the concept. The company says the gas supercar will be based on the LNG 2000 concept, which was created with backing from billionaire David Bruce McMahan.
The LNG 2000 was a concept designed by Marlon Kirby, who has his sights set on 300mph (483km/h). The concept would achieve this through the use of a gas-powered engine which develops up to 2000hp, but will likely be toned down to 1194kW (1600hp).
Specific details of the production engine aren't yet complete, however, it will feature twin-turbochargers. It will not feature cams, pushrods or rocker arms though allowing for a maximum redline set at around 10,000rpm. According to Maxximus, it'll be able to rocket from 0-100km/h in around 2.0 seconds.
Maxximus says the Prodigy will not just be about speed though, the flamboyant company says the Maxximus Prodigy will also feature an interior fit for a Rolls-Royce, with exclusive levels of luxury. It will feature satellite navigation and a 1000-Watt McIntosh audio system.
There's been a few outrageous supercar concepts and projects being pitched lately, some more unbelievable than others. According to Maxximus however, up to five interested buyers have already put their name down for one of these bad boys.
We'll be sure to provide more concrete details and/or video footage of the beast as soon as we can. From the concept sketches, it does at least look like a supercar capable of cutting through the air at some serious speeds. What do you think of it?
Also check out:
– Rotary Supercars hunts Bugatti Veyron with eight-rotor 2089kW rotary supercar
– 2012 Dagger GT-D Outlaw with 2700hp by TranStar Racing
– Rimac One Concept unveiled at Frankfurt show