Audi has hinted it will unveil its new Q2 compact SUV very soon, possibly at the upcoming Geneva motor show in March.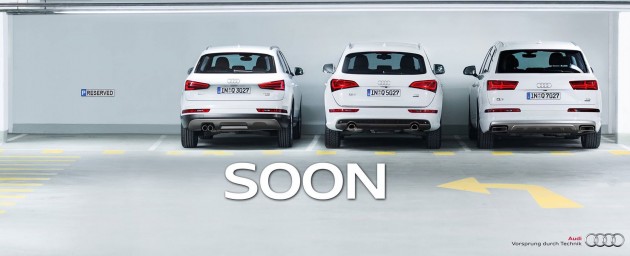 The new Audi Q2, as confirmed late last year, will be Audi's entry into the rather vacant compact premium SUV market segment. At the moment this space is only occupied by semi-premium models such as the Fiat 500X and Nissan Juke.
This teaser image, released on Audi's Facebook page, shows an ascending lineup of its SUVs, with the first space empty, followed by the Q3, Q5, and new Q7. It doesn't take a genius to put together the clues.
Audi said in December last year that it is investing 3 billion euros for 2016, with the aim to expand its electric vehicle technology development, and introduce refreshed SUV models such as the new Q5. The plan also includes introducing the all-new Q2.
As far as we know the Q2 will be based on Volkswagen Group's MQB platform that also underpins cars like the latest Mk7 VW Golf, the Audi A3, and second-generation VW Tiguan.
The Q2 is expected to be smaller than all of the aforementioned MQB-based vehicles though, sitting beneath the current Mk5 Golf/PQ35-based Q3 in overall dimensions. It will probably launch in front-wheel drive form, with quattro all-wheel drive reserved for upper trim levels.
More details are likely to surface in the coming weeks, even if through more teasers and previews. The Geneva show starts on March 1.