With the Australian launch of the Hyundai Veloster SR Turbo literally just one week away, word is already coming through that an even higher performance version could be on the way; the Hyundai Veloster Turbo 'R-Spec'?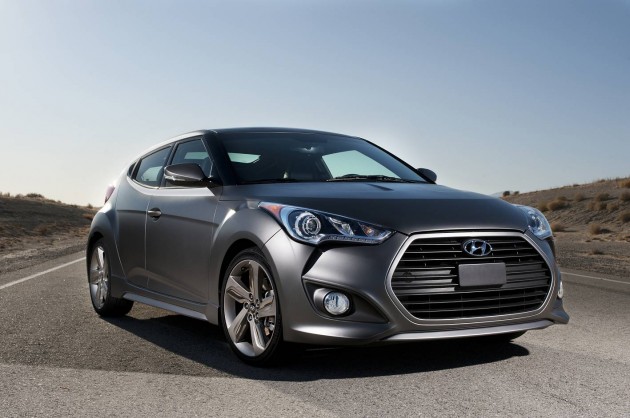 Nothing is official at this stage but there are rumours circulating suggesting a meaner Veloster could be in the making. The speculation stems from a number of discreet facts that have been discovered about the normal Veloster Turbo during its launch in various markets.
The Turbo apparently comes with the same suspension as the normal Veloster, including the V-beam non-independent rear end, at least in international markets (Australian specs not yet announced). This gives experts reason to believe that this has been done on purpose to leave room for further enhancements.
Other areas have apparently been 'left open' for further development too, such as the alloy wheels. If the Veloster Turbo was the best Hyundai could offer, surely both of these areas, especially the suspension, could have been made more heavy duty over the standard car?
Now we don't want to jump the gun here as we haven't yet driven it (PerformanceDrive will be attending the Australian launch of the SR Turbo next week) but according to overseas reviews so far, that have tested the car, it's a decent sporty hatch. However, they say it doesn't quite match the level of performance or overall handling potentials as the more expensive rivals, such as the Volkswagen Golf GTI.
The SR Turbo will come with a 1.6-litre turbocharged four-cylinder engine producing around 155kW and 265Nm. Despite being lighter in weight than the Golf GTI which also offers 155kW – by around 100kg – the Veloster Turbo can't quite match the Golf GTI's 0-100km/h time of 6.9 seconds. The Hyundai, at least overseas, does it in 7.5 seconds with the dual-clutch auto and 7.8 with the six-speed manual.
That sort of performance is pretty quick, but certainly not class-leading, in terms of hot hatch acceleration anyway. Again, this leads many to believe that Hyundai has something hotter up its sleeve.
If the rumours are true then we could see an 'R-Spec' of some variety featuring firmer and sportier suspension, a revised interior for a more focused theme, and, to a certain degree, a boosted engine.
It looks like we will have to wait and see. We'll be sure to extract whatever information we can during the local launch next week. Stay tuned.