Audi took to Detroit to unveil the interesting new h-tron quattro concept, which previews zero-emissions technology that could eventually make it to production.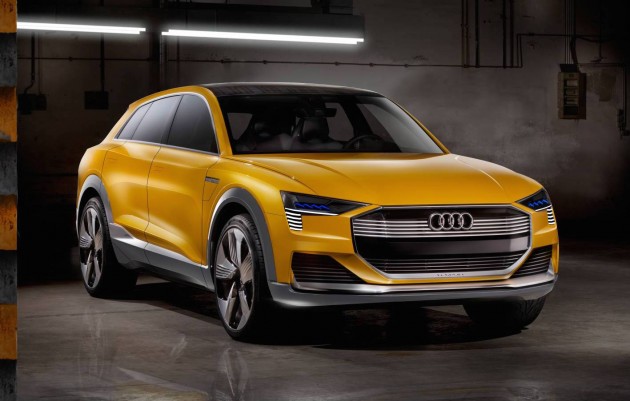 The h-tron concept exemplifies Audi's endeavour toward eco-friendly technologies, powered by two electric motors, front and rear, connected to a hydrogen fuel cell. The electric motor at the front throws out 90kW, while the rear provides 140kW. In addition, the battery pack can also provide a temporary boost of up to 100 kW.
This translates to a sub 7-second 0-100km/h run, which is admirable considering the h-tron is a bulky SUV. Part of the performance is thanks to the 550Nm of torque on offer. Audi claims a range of more than 600km with a full tank, and refuelling takes around four minutes. Audi also says the concept consumes around 1kg of hydrogen per 100km.
The h-tron isn't just about clever powertrain technology. It also comes fitted with Audi's latest autonomous, 'piloted driving' technology which is set to make its debut on the next-generation A8 production car in 2017. The "zFAS" system is capable of taking full control of the car at speeds up to 60km/h and during parking. It's all possible thanks to radar sensors, a new kind of video camera, ultrasonic sensors and a laser scanner.
As for the interior, it's packed with advanced gizmos and geeky tech, such as two touch displays in addition to a central virtual cockpit and curved OLED, gesture control, and unique steering wheel spokes with contoured touch surfaces.
The h-tron is just a concept at this stage, but we can expect to see some of the features here popping up in Audi models in the not-too-distant future. Audi says:
"The Audi h-tron quattro concept car offers a preview of what future mobility could look like… With an efficiency rating in excess of 60 percent, the fuel cell now surpasses any combustion engine."