A new concept showcasing Nissan's future ideas for design, electric power, and autonomous technology has been presented at the 2015 Tokyo Motor Show. The IDS (Intelligent Driving Sedan) features the corporate signature Flying V grille, plus other futuristic design touches.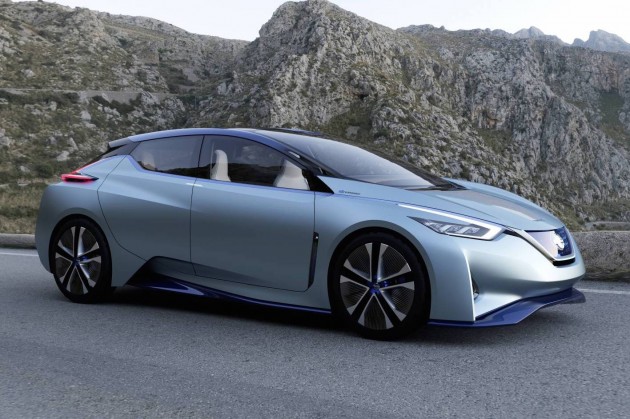 Although it features an autonomous mode dubbed Piloted Drive, Nissan is keen to emphasize the choice between "the excitement of driving" and "freeing yourself from driving to enjoy your time in the car".
In Manual mode the car's Artificial Intelligence module learns the driver's style and imitates it in PD mode. To switch between the two, the driver presses the Nissan logo on the steering wheel.
The steering wheel then cleverly contracts and folds up, replaced by an interactive tablet and large display screen almost spanning the width of the dash. The seats are then able to be angled inwards to facilitate conversation. Other autonomous features include Piloted Park, which is a remote parking app for smartphones that is set to be rolled out on production models before the decade's finished.
On the power front, an electric drivetrain with the capacity to be wirelessly recharged is used. It has 60kWh battery pack – twice that of today's Nissan LEAF – and is expected to preview the powertrain of the next-gen LEAF. The styling of the concept is predicted by many to influence the next LEAF as well.