The Ford F-150 Raptor has been obscenely succesful ever since it debuted in 2009. A true answer from GM is yet to be found, but Fiat Chrysler's Ram Trucks division has come up with this, Rebel TRX concept. It's very similar in philosophy to the Ford Raptor but when the company's skunkworks adds the supercharged Hellcat V8, suddenly an irresistible alternative is born.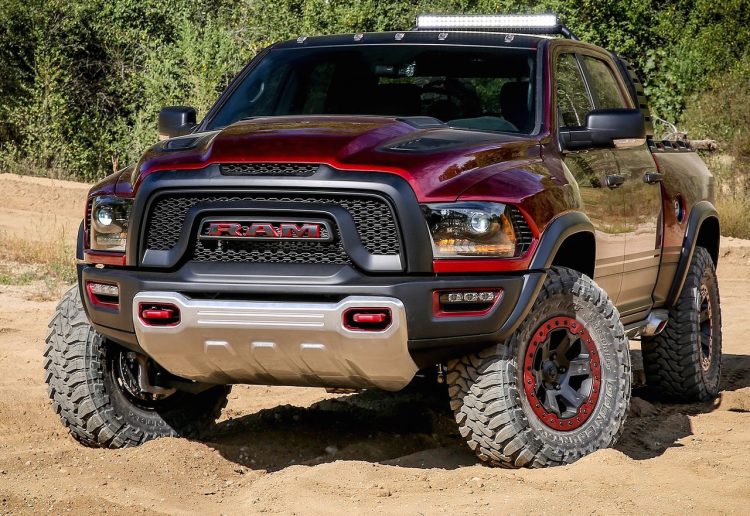 Dubbed the Ram Rebel TRX, it is the ultimate expression of Ram's capability and performance. Although it doesn't have the full 527kW of the Charger and Challenger Hellcats, 428kW is more than enough to eclipse the Raptor's 335kW output and demolish dirt hills at over 160km/h. An eight-speed 'TorqueFlite' automatic gearbox is used.
The suspension allows for 13 inches of wheel travel and 37-inch monster tyres are necessary for the aforementioned 160km/h of desert cruising, with two full-sized spares should the worst occur.
A unique design package featuring customised bumpers and skid plates adds attitude and flair on the outside, while unique anodised interior appointments aggro up the inner sanctum.
Although it is just a concept at this stage, if there is enough enthusiasm then Ram will have no choice but to chase the Raptor and put this monstrosity into production.
This harks back to a time in the late-1990s/early-2000s when Ram was challenging the SVT F-150 Lightning with the Ram SRT10 by using a detuned version of the Viper's monstrous V10.