Audi Australia will launch the all-new Audi A3 sedan in January. It will be offered in four different variants, with turbo-diesel and turbo-petrol, as well as front- and four-wheel drive forms. This is the first-ever A3 sedan Audi has produced.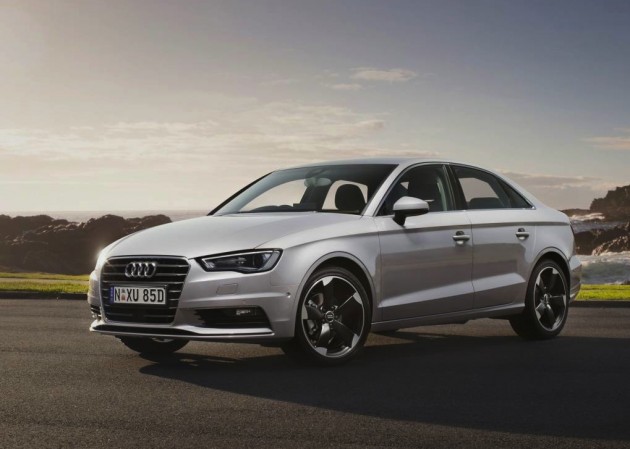 Kicking off the range will be the A3 1.4 TFSI Attraction. It features a 1.4-litre turbo four-cylinder producing 103kW of power and 250Nm of torque, backed up by an S tronic automatic transmission. It's able to cover 0-100km/h in 8.4 seconds, and offers an average fuel economy of 4.7L/100km.
Stepping up a rung will be the 1.8 TFSI Ambition. It comes with a 1.8-litre turbo four-cylinder producing a meaty 132kW and 250Nm, also backed up by an S tronic dual-clutch transmission with front-wheel drive. It sprints from 0-100km/h in 7.3 seconds, while offering a fuel economy rating of 5.7L/100km.
For the diesel fans, the 2.0 TDI will offer 110kW and 320Nm. It offers an average fuel consumption rating of just 4.2L/100km, and covers the 0-100km/h dash in 8.4 seconds.
Lastly, the range-topping 1.8 TFSI quattro will showcase loads of luxuries and conveniences offered in the Ambition package, while adding the safety and security of Audi's renowned quattro all-wheel drive system. The same 132kW engine is shared with the front-wheel drive model above.
Andrew Doyle, Audi Australia managing director, spoke about the introduction of the new sedan to the local market in a statement, saying,
"We are thrilled with the price positioning of this new model. It's a highly competitive segment of the market and the A3 Sportback has been very well-accepted since its May 2013 launch. We are now looking forward to even more customer interest with the arrival of this all new body style for the range."
Pricing for the new model is as follows (excluding on-road costs):
Audi A3 sedan 1.4 TFSI Attraction – $39,800
Audi A3 sedan 1.8 TFSI Ambition – $44,800
Audi A3 sedan 2.0 TDI Ambition – $44,800
Audi A3 sedan 1.8 TFSI Ambition quattro – $47,800