Honda has revealed its new FCV hydrogen fuel cell concept at the North American International Auto Show in Detroit, previewing a futurist eco-friendly sedan that will go into production.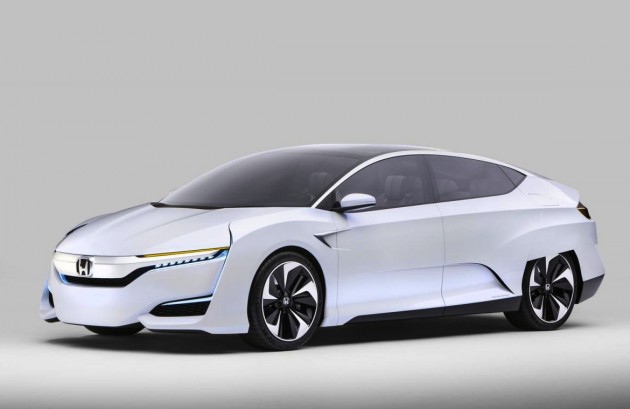 Designed to give us a glimpse of a production model that will hit the market in 2016 in Japan, the FCV is powered by a hydrogen fuel cell emitting zero tailpipe emissions. The FCV has an aerodynamic exterior to maximise the efficiency of the car passing through the air to reduce fuel consumption, with a gently sloping roofline with numerous intakes, channelling air to reduce drag.
The FCV also features LED headlights, aerodynamic wheels and a stylish, newly designed rear end. Inside the FCV is lavishly equipped with premium leather upholstery, wooden trim and metallic accents. There is also an aviation-inspired steering wheel, futuristic instrument cluster and a 'floating' infotainment system.
While specific details are yet to be released by Honda, the Japanese manufacturer has confirmed that the new fuel cell used in the FCV is 33 per cent smaller than the cell used in the FCX Clarity.
Honda has confirmed range figures at around 300 miles (482km) with an anticipated refueling time of around three minutes. The FCV is set to be released in Japan in 2016, with Honda saying that the FCV will be reaching European and US markets in the future.