The term 'game changer' gets thrown around a lot, but with the introduction of the all-new 2013 Volvo V40, there's potential this time the term could be very valid indeed. Filled with cutting-edge technology, standard features, and all wrapped up in a striking exterior design, the V40, on the face of it, certainly seems like it has what it takes to leave Audi A3, BMW 1 Series, and Mercedes-Benz A-Class buyers weak at the knees.
2013 VOLVO V40 – PROS AND CONS
PROS:
Innovative and class-leading safety features. Did we mention world's safest car (Euro NCAP) currently on sale?
Surprisingly sporty 'chuckable' handling across the range, with moderate-to-firm suspension setting on even entry-level models
Flagship T5 the most powerful (187kW) and quickest official 0-100km/h (6.1 seconds) in its class
Fuel-efficient D4 is powerful and fun to drive, D2 offers class-leading efficiency
Sporty seats and accents across the range
Striking exterior design
'Human-centric' features and functions; cooled glove box, power driver's seat standard across the range
CONS:
Rear seat headroom hindered a touch by the swooping roofline
No head-up display technology in amongst an otherwise bomb-proof safety showcase
T5 R-Design brakes aren't any different/higher performance than the ones on lesser-powerful V40 variants; they lack a quality feel and bite
2013 VOLVO V40 – OVERVIEW
Storming into the premium five-door hatch market, the new Volvo V40 is hoping to "surprise and delight" buyers, bringing bold sexy styling and a fresh and rather cool personality to the segment. The entire range excels beyond the competition in terms of engine power in each respective trim level too, while the latest safety developments from the Swedish company have resulted in, deep breath, the V40 being the world's safest car currently on sale.
Yes, according to the people at Euro NCAP, the new V40 is the safest vehicle ever tested. In recent crash tests it scored the highest overall rating ever recorded, which of course not only results in an Australian ANCAP safety rating of five stars, it also resets the benchmark which all rivals will now have to follow. If you ever thought a reverse parking camera was an advanced feature, you'll be blown away by some of the stuff represented in the V40.
The big question is, is safety alone good enough to poach buyers from rival manufacturers/models? Volvo Australia doesn't seem too concerned about that, and has put a relatively modest yearly annual sales target of 800-1000 units in place.
Last year, BMW sold 1920 examples of the 1 Series, the second favourite behind the slightly larger Mercedes-Benz B-Class (2035). Volvo does plan to sell around 100,000 V40s around the world though, including in markets such as Europe and China.
The official launch of the new model in Australia has just finished. It involved lots of presentations about the V40's amazing new safety technologies, as well as a rigorous drive through the scenic hills of Adelaide's vineyard regions.
Since we drove all variants, including the D2, D4, T4, and T5, for this review we'll concentrate on the V40 model as a whole rather than a specific version. We do aim to review individual variants, including our usual videos, in the near future.
Whether you're after an economical runaround or a sporty performance hatch, Volvo provides full coverage to cater all.
The entry-level D2 comes with an 84kW/270Nm 1.6-litre turbo-diesel four-cylinder, while the D4 comes with a 130kW/400Nm 2.0-litre turbo-diesel five-cylinder.
As for the petrol lineup, the T4 comes with a 132kW/300Nm turbo five-cylinder, and the flagship T5 R-Design comes with a 2.5-litre turbo five-cylinder with 187kW and a maximum of 400Nm (overboost).
To further hammer home its potential to change up the game, Volvo has introduced a very competitive set of starting prices. See below.
(Prices exclude on-road costs.)
2013 Volvo V40 D2 Kinetic – $34,990 (six-speed manual only)
2013 Volvo V40 D4 Kinetic – $39,990 (six-speed manual)
2013 Volvo V40 D4 Kinetic – $41,990 (six-speed Adaptive Geartronic auto)
2013 Volvo V40 D4 Luxury – $45,990 (six-speed Adaptive Geartronic auto only)
2013 Volvo V40 T4 Kinetic – $41,990 (six-speed Adaptive Geartronic auto only)
2013 Volvo V40 T4 Luxury – $45,990 (six-speed Adaptive Geartronic auto only)
2013 Volvo V40 T5 R-Design –  $49,990 (six-speed Adaptive Geartronic auto only)
2013 VOLVO V40 – ACCOMMODATION AND EQUIPMENT
The V40 is the first model which offers Volvo's new human-centric philosophy. The cabin is relatively fuss-free, and while there are a lot of gadgets on offer, the ambiance is cool and very calm.
In all models the seats are not only comfortable, they are also sculpted with various tones and bolsters; they look like sophisticated sports seats, and that's across the range. The driver's seat is electronically adjustable as standard, as is USB/Bluetooth connectivity (with audio streaming).
One of the first positive things you'll notice about the cabin is when you look outside. Vision is excellent. The A-pillars seem relatively thin which gives you plenty of offset view at intersections. And even though rearward vision is obstructed by thick C-pillars, the V40 doesn't feel too big or overwhelming at all and you can quite easily judge its proportions.
Where the V40 really stands out in terms of its rivals is with equipment. Every model comes standard with a cooled glove box, adjustable theatre lighting with seven mood colours for the interior, a five-inch multimedia screen with a clear and powerful eight-speaker audio system, and climate control air-con with a pollen filter.
You can option up ($1100) to a High Performance eight-speaker system – standard on the D4 Luxury, T4 Luxury, and T5 R-Design – and enjoy a seven-inch screen. A Dolby Pro Logic surround sound system is also optional ($1500) across the range, with 10 speakers.
Like the German rivals, there are many options on the V40. The list isn't as extensive or as daunting as those found on the German offerings though. Basically, there's three main trim levels which you select from at the beginning – the Kinetic, Luxury, and R-Design – while Volvo also offers a Driver Support Pack ($5000) which includes all of the high-tech safety features, and a few other option packs as well as individual customisation options.
The Driver Support Pack is one that we highly recommend. It's a shame it doesn't come as standard, there is lots of truly cutting-edge stuff in it. The highlights among which include Cross Traffic Safety, Lane Keeping Aid, road sign recognition, adaptive cruise control, and forward collision warning.
It may seem overwhelming to understand these systems, but they work in the background and you only need notice them. In other words, you don't have to activate anything or go through any complicated procedures to see them in action. We'll go into more detail with the safety gadgets down below in the 'safety' section.
Rear seat space feels equal to class-leading. There's heaps of legroom, however, headroom is hampered slightly due to the sleek swooping roofline; for those looks, it's a sacrifice worth punting for.
In the very back, the V40 doesn't offer a large cargo space in comparison to its rivals. With 335 litres on offer, it's out-swallowed by the current BMW 1 Series (360 litres) and the upcoming Mercedes-Benz A-Class (341 litres).
The floor features a special 15-litre extra storage box under a flip-up lid to keep your items from bouncing around, while the rear seats can be folded flat, pretty much completely flat too, opening up more room.
2013 VOLVO V40 – DESIGN AND SAFETY
It's taken Volvo around four years to create the V40, with lots of engineering and re-tooling, as well as the implementation of extensive C-segment customer feedback. It does use some foundations of an old platform which originally started life as a Ford Focus, however, according to V40 vehicle line director Hakan Abrahamsson, so many revisions have been made that very little is left from the existing chassis.
What you're left with is an attractive five-door hatch design following Volvo's latest DNA. It showcases a sweeping roofline, an up-swept rocker line/sill, and a set of distinctive shoulders with their own contour deviations. Thanks to the new pedestrian airbag mounted at the base of the windscreen, Volvo engineers were able to concentrate on styling rather than adhering to regulations in terms of roof height and nose height. The pedestrian airbag is just one of many revolutionary safety mechanisms.
Take the Cross Traffic Alert system, which is part of the $5000 Driver Support Pack . Have you ever gone to reverse out of a nose-in car park only to be blasted by a vehicle driving perhaps too fast behind you? The Cross Traffic system uses sensors in the rear corners of the car to determine if it is safe or not to reverse out. If the sensors detect a vehicle, the dash gives you a beep to warn you.
The Sign Recognition system is just as impressive, which comes with the Driver Alert Pack ($2075). Sensors in the front of the car automatically 'read' road signs for you. We know it sounds a bit sci-fi, but during our test the system never failed to pick up a sign. The speed limit is continuously displayed inside the speedo area and updates every time it sees a new sign/speed limit.
It can also pick up 'narrow bridge' and 'no overtaking' signs. Again, you don't have to do anything to get the system to work, it does it automatically in the background. If you've ever been on a journey and thought to yourself, 'gee, I can't remember what the speed limit is', this completely eradicates that.
As for the Lane Keeping Aid, which is part of the Driver Alert System pack as well ($2075 on all models), this works by reading the road lines and giving you a kind warning inside the speedo to let you know when you're wandering in your lane. If you wander too much and veer over the line, gentle torque is directed to the steering wheel and the car turns slightly back into the lane.
Yep, all by itself. It's not an autonomous vehicle, so it won't steer you home, but it has the potential to significantly reduce fatigue-related accidents. We found the automatic input isn't quite as involved as the system on the Volkswagen CC, reviewed earlier this year, but it is extremely handy to have, and quite advanced for a relatively low cost entry-level model.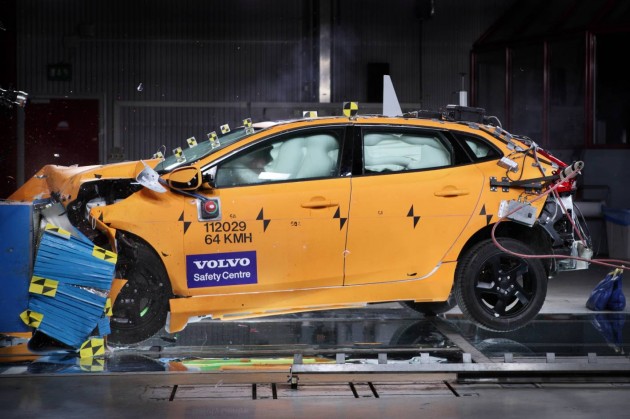 Class-leading features and technologies are usually reserved for upper-level models and more premium cars. Not so with the V40. Volvo hasn't held back on throwing all of its latest developments into the new entry-level model.
As mentioned above, the V40 has achieved the highest ever Euro NCAP crash test results, easily giving it a five-star rating. All models come with Volvo's City Safety system which continously reads the road ahead and can apply the brakes if the sensors detect an impending accident. The system previously worked at speeds up to 30km/h. The revised system on the V40 works at up to 50km/h.
All V40s also come with a vast array of airbags, including the world-first pedestrian airbag, as well as roll over protection (ROPS), whiplash protection (WHIPS), side impact protection (SIPS), and of course traction and stability control, with torque vectoring and corner traction control.
2013 VOLVO V40 – ON THE ROAD
Driving the top-spec petrol V40 T5 R-Design back-to-back with the top-spec diesel D40 Luxury, we couldn't really pick a winner. The R-Design's noticeably firmer 'Sport chassis' and suspension rails around corners slightly better, but even so, the D40 Luxury suspension with its 'Dynamic chassis' is firm enough to support active driving styles.
You can only just feel the added weight of the diesel engine in the D4. The most important part about this is the suspension does seem to compensate for it.
The electronic steering, which is on all models, feels a touch less linear on the D4 Luxury compared with the T5. On the D4 it seems springy to return to centre, while the T5 feels more natural and absorbs self-return more fluently.

Volvo says the T5 will sprint from 0-100km/h in just 6.1 seconds. We didn't get a chance to time it ourselves. It does feel every bit that quick though, with wheelspin off the line reminding you of the 400Nm (overboost) on tap.
Similarly, the D4 does tend to spin off the mark with moderate throttle depression. There's no evident turbo-lag, in fact, the D4 tends to surprise you with its torque if you get even mildly amorous with the throttle.
Turn in is nice and sharp on all models, and a corner line can be held or even adjusted mid-corner with some throttle-off weight shift, or more throttle to plant the rear. The T5 and D4 Luxury are equally malleable, and actually quite fun and rewarding to play around with.
The entry-level D2 with its 'Dynamic Eco chassis' does roll a bit more and is less responsive, in terms of handling, but this could be down to the standard 16-inch alloy wheels with taller tyres compared with the 17- and 18-inch wheels on the D4, T4, and T5.
The D2 with its 84kW does feel slow in terms of pick-up acceleration and out of corners, but with 270Nm available from just 1750rpm, once you have the momentum going, it shifts along just fine. And plus, you have the added bonus of exceptional fuel economy.
Despite the brakes being the same for the D4, T4, and T5, we didn't experience any fade or dropping of the pedal during our drives. The brake pedal feel could be improved, and on the R-Design, you do expect something a little bit extra like cross-drilled discs or bigger calipers. Instead, they are all the same.
The main criticism we have with most models is the six-speed auto transmission. There's nothing particularly wrong with it, but in a world of highly advanced, interesting, and quicker and more fuel efficient gearboxes, the six-speed in the V40 is a little dull.
There's no paddle shifters, no blipping of the throttle on manual-style downshifts – even for the T5 R-Design – and in Sport mode, it feels too late to jump down gears. When it eventually does, it just misses the mark and feels a tad too eager in our opinion.
Overall, the V40 offers a genuinely nice driving experience. There's very little complaints here, and although the T5 R-Design isn't quite as focused as some of the rivals, it's still an enjoyable machine with a playful character.
2013 VOLVO V40 – VERDICT
So, is the V40 a game changer? Taking into account its starting prices, engine power and torque outputs against its rivals, the modern and crisp design, as well as the premium badge, Volvo's new hatch will be one to watch in the future. With the added bonus of exceptional safety and innovation, we have a feeling you will be seeing a lot of these gems out on the roads soon. We also think Volvo will exceed its local sales target of 1000 per year.
2013 VOLVO V40 – SPECIFICATIONS
MODEL
2013 Volvo V40 D2
ENGINE
1.6-litre turbo-diesel four-cylinder
ENGINE SIZE / COMPRESSION RATIO
1560cc / 16.0:1
BORE X STROKE
75mm x 88.3mm
POWER
84kW@3600rpm, 270Nm@1750-2000rpm
POWER TO WEIGHT RATIO
16.2: 1 (kg:kW)
KERB WEIGHT
1365kg
HEIGHT / WIDTH / LENGTH
1439mm / 2041mm / 4369mm
DRIVETRAIN
Six-speed manual, front-wheel drive
BRAKES
F: Ventilated discs
R: Ventilated discs
WHEELS / TYRES
F and R: 16- x 7-inch alloy, 205/55 R16
FUEL TANK CAPACITY
52 litres
FUEL TYPE
Diesel
FUEL CONSUMPTION
Tested average: not tested
Official average: 4.2L/100km
PERFORMANCE
0-100km/h: 11.9 seconds (official)
PRICED FROM
$34,990
WARRANTY
Three-year/Unlimited kilometre
MODEL
2013 Volvo V40 D4
ENGINE
2.0-litre turbo-diesel five-cylinder
ENGINE SIZE / COMPRESSION RATIO
1984cc / 16.5:1
BORE X STROKE
81mm x 77mm
POWER
130kW@3500rpm, 400Nm@1750-2000rpm
POWER TO WEIGHT RATIO
11.6: 1 (kg:kW)
KERB WEIGHT
1508kg
HEIGHT / WIDTH / LENGTH
1439mm / 2041mm / 4369mm
DRIVETRAIN
Six-speed auto or manual transmission, front-wheel drive
BRAKES
F: Ventilated discs
R: Ventilated discs
WHEELS / TYRES
F and R: 17- x 7.5-inch alloy, 225/45 R17
FUEL TANK CAPACITY
60 litres
FUEL TYPE
Diesel
FUEL CONSUMPTION
Tested average: 8.6L/100km
Official average: 4.9L/100km (manual)
PERFORMANCE
0-100km/h: 8.3 seconds (official)
PRICED FROM
$39,990
WARRANTY
Three-year/Unlimited kilometre
MODEL
2013 Volvo V40 T4
ENGINE
2.0-litre turbocharged petrol five-cylinder
ENGINE SIZE / COMPRESSION RATIO
1984cc / 10.5:1
BORE X STROKE
81mm x 77mm
POWER
132kW@5000rpm, 300Nm@2700-4000rpm
POWER TO WEIGHT RATIO
11.0: 1 (kg:kW)
KERB WEIGHT
1462kg
HEIGHT / WIDTH / LENGTH
1439mm / 2041mm / 4369mm
DRIVETRAIN
Six-speed auto, front-wheel drive
BRAKES
F: Ventilated discs
R: Ventilated discs
WHEELS / TYRES
F and R: 17- x 7.5-inch, 225/45 R17
FUEL TANK CAPACITY
62 litres
FUEL TYPE
not available at time of writing
FUEL CONSUMPTION
Tested average: not tested
Official average: 7.6L/100km
PERFORMANCE
0-100km/h: 8.7 seconds (official)
PRICED FROM
$41,990
WARRANTY
Three-year/Unlimited kilometre
MODEL
2013 Volvo V40 T5 R-Design
ENGINE
2.5-litre turbocharged petrol five-cylinder
ENGINE SIZE / COMPRESSION RATIO
2497cc / 9.5:1
BORE X STROKE
83mm x 92.3mm
POWER
187kW@5400rpm, 400Nm@1800-4200rpm
POWER TO WEIGHT RATIO
7.85: 1 (kg:kW)
KERB WEIGHT
1468kg
HEIGHT / WIDTH / LENGTH
1439mm / 2041mm / 4369mm
DRIVETRAIN
Six-speed auto, front-wheel drive
BRAKES
F: Ventilated discs
R: Ventilated discs
WHEELS / TYRES
F and R: 18- x 7.5-inch, 225/40 R18
FUEL TANK CAPACITY
62 litres
FUEL TYPE
not available at time of writing
FUEL CONSUMPTION
Tested average: 13.5L/100km
Official average: 8.1L/100km
PERFORMANCE
0-100km/h: 6.1 seconds (official)
PRICED FROM
$49,990
WARRANTY
Three-year/Unlimited kilometre