The sexy, savage and sensual new Jaguar F-Type has finally been officially unveiled at the 2012 Paris Motor Show. This is the company's most exciting new model, coming equipped with three different supercharged engine options. Each showcase a striking, sexy body design taking inspiration from the C-X16 concept and the original E-Type of the Sixties.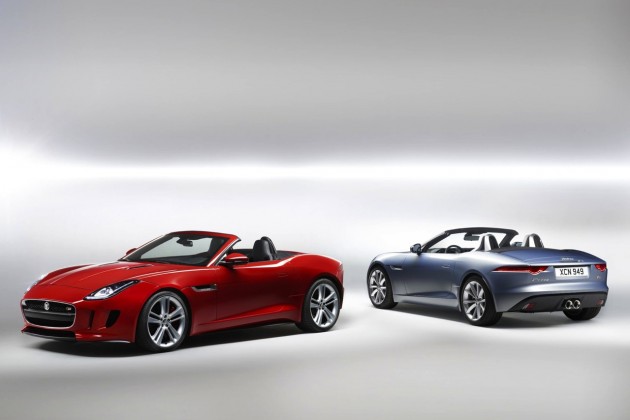 The Jaguar F-Type has been designed to take on the big hitters in the sports car segment, including cars such as the Porsche 911. So, as you can imagine, Jaguar has put in loads of development and testing into the F-Type to ensure it can kick it with the best of them.
All models are rear-wheel drive and feature a front-mounted engine matched up to an eight-speed sports automatic transmission. All come with dedicated sports suspension and a chassis that has been thoroughly developed on the Nurburgring to ensure outright performance and handling prowess.
Initially, the F-Type will come in convertible form, in three flavours; the F-Type, the F-Type S, and the F-Type V8 S. Each of these come with their own powerful engine.
The base model F-Type comes with a 3.0-litre supercharged V6 producing 250kW of power, enabling acceleration from 0-100km/h in 5.3 seconds and a top speed of 260km/h.
For those wanting a bit more performance, the F-Type S comes with a tuned version of the supercharged V6 producing 280kW. It's able to sprint from 0-100km/h in 4.9 seconds and has a top speed of 275km/h.
Finally, for the true revheads, there's the F-Type V8 S. It comes with a 5.0-litre supercharged V8 producing 364kW of power and 625Nm of torque. It's able to cover 0-100km/h in just 4.3 seconds and go on to a limited top speed of 300km/h.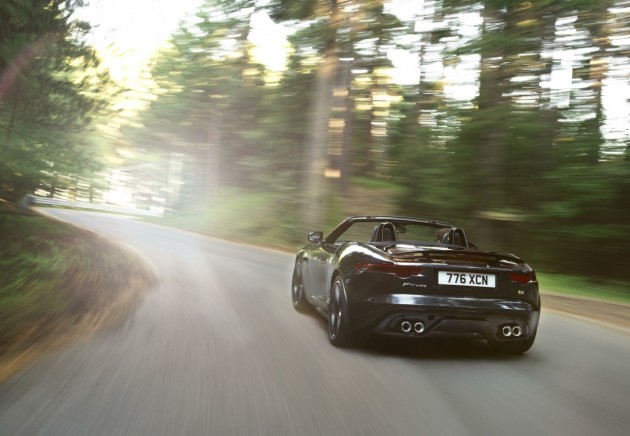 To really appreciate the F-Type you have to take in its attention to detail. It features unique deployable door handles and air vents, for instance, as well as an active rear spoiler which, when activated, provides up to 120kg of downforce.
In terms of design, the V6 variants can be distinguished by the twin-outlet central exhausts which rise up like they did on the old Jaguar E-Type. On the 'S' versions, the exhaust comes with an active valve that opens under heavy throttle at engine speeds beyond 3000rpm, for an even louder and crisper bark.
This is a cracking new model from Jaguar, and one that rekindles its sports car spirit and racing pedigree. Adrian Hallmark, global brand director at Jaguar, spoke about the new model at the car's unveiling in Paris, saying,
"Jaguar is a founder member of the sports car segment with a rich sporting bloodline stretching over 75 years, and in the F-Type we've reignited that flame.

"The F-Type isn't designed to be like anyone else's sports car. It's a Jaguar sports car – ultra-precise, powerful, sensual and, most of all, it feels alive."
In Australia, the new model is set to hit the market during the second-half of 2013 following its European launch in mid-2013.
The new model will make its Australian public debut at the 2012 Australian International Motor Show in Sydney next month. PerformanceDrive will bring you live coverage from the show during the media day on October 18. Local prices are expected to be announced then.