Aston Martin has unveiled the Aston Martin V12 Zagato production car ahead of the its official Kuwait Concours d' Elegance debut next week. This is the street version of the epic concept and Nurburgring 24 Hours race car.
Featuring Aston's 5.9-litre V12 engine, power is rated at 380kW while torque is rated at 569Nm. The engine is connected up to a six-speed manual transmission which is mounted at the rear axle. At the back also features a limited-slip differential sending power through a 3.7:1 final drive ratio. Acceleration from 0-100km/h takes just 4.2 seconds, while top speed is just over 300km/h.
On the outside is what really sets the Zagato apart from its V12 Vantage brother. There's an intricately sculpted body, showcasing the traditional Zagato double-bump roof, while the rear undercarriage shows off a racing-style diffuser.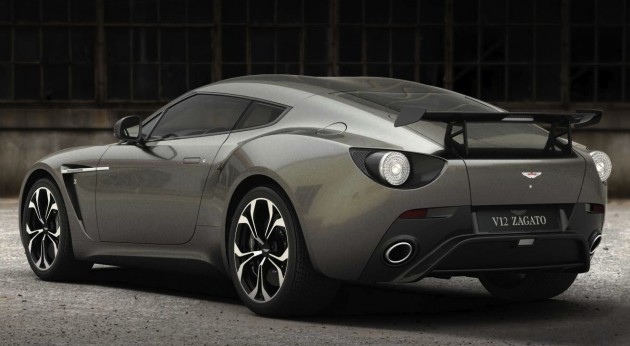 The rear diffuser section has been toned down a bit for the production car by the looks of things, with the concept featuring a very aggressive carbon splitter layout, ready to hit the race track. The production version is more elegant and perhaps more consistent with the rest of the body.
The body of the V12 Zagato is all handmade, from the manually rolled wheel arches to the huge rear quarter panels/haunches, it's all bespoke work. At the back there's a set of completely new taillights compared with the production V12 Vantage, while at the front Zagato has retained the traditional Aston Martin headlights.
To give the Zagato a bit of a high performance edge, and to remind us of its racing pedigree, there's a large carbon fibre rear wing for added rear downforce, as well as a low and thin carbon splitter which runs around the front edge.
Inside, things are just as unique. There's a full interior retrim and redesign, featuring flowing textures, new bucket seats and matching door trims. The seats also feature a 'Z' emblem for Zagato.
Aston Martin has previously said some of these production versions would be heading to Australia. Official word on numbers is still to be announced. More details on production and pricing are expected to be revealed at Kuwait Concours d' Elegance, running from February 15 to 18.
UPDATE: Apparently just one example will be heading to Australia, out of the 150 planned for production. And it has already been sold. Pricing has not been revealed, but it is expected to be just below the $1 million mark.