Audi has pulled the wraps off the new 2014 Audi A3 Cabriolet on the eve of its public debut at the Frankfurt Motor Show. The four-seat cabrio is larger yet lighter weight than its predecessor.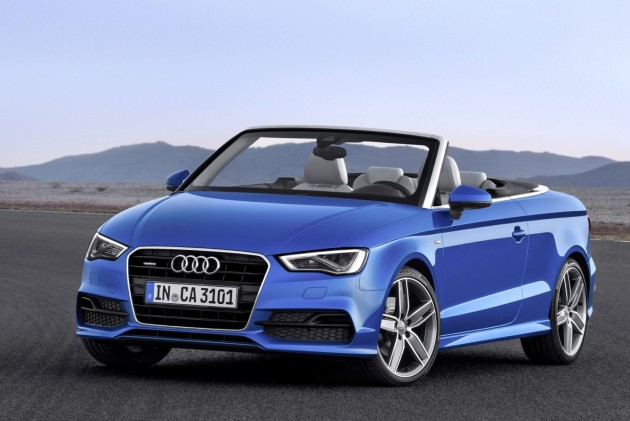 Weighing in at 1365kg, the new cabrio is around 50kg lighter than the outgoing version largely thanks to a new body which sheds 30kg alone. Other areas were also revised to save weight, including special reinforcements to increase torsional stiffness and parts of the interior.
Under the bonnet, the new A3 Cabrio will initially come with two different TFSI petrol engine choices, including a 1.4 with 103kW and a 1.8 with 132kW. A 2.0 TDI turbo-diesel will also join the lineup, offering 110kW.
For us performance enthusiasts, Audi will be offering the new cabrio in S3 Cabrio form, presenting the full suite of 'S' features including the new 2.0-litre TFSI engine with 221kW and 380Nm. Acceleration from 0-100km/h takes just 5.4 seconds, while the average fuel economy is rated at 7.1L/100km.
As for the design, it incorporates Audi's latest styling language with clean lines, LED-infused headlights, silver highlights and trimmings, and a soft cloth retractable roof. The electronic kinematic roof mechanism is made from magnesium and can open or close in 18 seconds at the touch of a button. It can be operated at speeds up to 50km/h.
With the roof down, boot space is a reasonable 287 litres. Audi says the way the roof folds away into three layers has minimal impact on storage space.
Market entry details and prices for the new model are expected to be announced in the next few days.
UPDATE: Audi Australia has confirmed the new cabrio will arrive in Australia during the third quarter of 2014, including, for the first time ever, the performance S3 Cabriolet. Prices and local specifications will be announced closer to its launch.