Volvo has sent out some teaser images of its upcoming fully electric XC40 SUV. It will come in as the brand's first fully electric vehicle.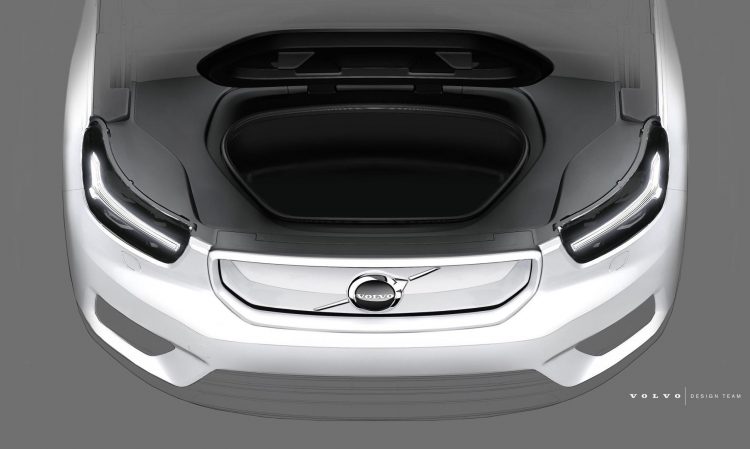 While Volvo's sub-brand, Polestar, focuses on electrified and hybrid vehicles, the battery-powered XC40 will be Volvo Cars' first electric model. It won't be the last though as the company, like many others, is planning to expand its electric range in the near future. In fact, it is hoping that by 2025 over half of its sales will comprise of electric vehicles.
In the latest teasers Volvo is showcasing the practicality benefits of going electric. Without the need for a front grille and big engine at the front, the XC40 electric will come with extra boot space under the bonnet. This area, known as the 'frunk' (front trunk), provides 30L of volume.
No specifications have been uncovered as yet, but Volvo says the electric XC40 will be available in eight exterior colours, including a new Sage Green. Buyers will also be able to opt for a fashionable black roof design and new 19- and 20-inch alloy wheels.
Like the regular XC40, the electric model is based on Volvo's recent Compact Modular Architecture. This layout was designed from the beginning to accommodate electrification, with room for the battery pack to be cleverly positioned in the floor without impacting interior space. Speaking about the overall design, Robin Page, design boss at Volvo Cars, said:
"Its bold, instantly recognisable design is now even sleeker and more modern in the all-electric version. Without the need for a grille we have created an even cleaner and more modern face, while the lack of tailpipes does the same at the rear. This is the approach we will explore more and more as we continue down the road of electrification."
Volvo is planning to lift the covers from the new model on October 16, and says it will reveal more details in the coming weeks before the debut.