The all-new 2020 Isuzu D-Max has been unveiled in Thailand, debuting a fresh platform. It brings in a range of major technology, safety, and conveniences improvements. Hardware changes also mean the new model is more power and more capable than ever before.
Firstly, yes, this is the all-new model which Mazda will borrow for its next-gen BT-50 as part of an agreement announced in 2016. In other words, it's not yet another facelift. We must point out that all of the details and images here are from Isuzu's Thai website, and might not necessarily reflect the exact specification of the Australian version expected to arrive next year.
Starting with the platform. It's an updated ladder-type chassis, with a redeveloped front and rear suspension setup. The front end uses a double-wishbone arrangement with reduced arm throws, while the rear end continues as a live axle layout with leaf springs. Isuzu says the leaf springs are produced with warm stress shot-peening technology to increase their strength, while also providing greater flexibility and a smoother ride.
Wrapping around the updated platform is an equally fresh body. It shows off a more modern and sportier design, with defined body lines and panel creases to give it a contemporary character. In comparison to the existing model, which is quite clean-cut and frill-free, the 2020 Isuzu D-Max, in terms of design, certainly seems to blend more seamlessly with the current trends of this market segment.
Isuzu's traditional twin-bar shield grille at the front helps connect it to past models, while the double-stacked driving lights and LED-infused headlights, with optional bi-LED technology, provide an aggressive and ready-to-go stance. Around at the back are some clear lens taillights with black shrouding, and a newly-sculpted bumper bar.
It looks like a range of trim levels will continue to be offered, at least in Thailand. The official website details single-cab and dual-cab body styles, as well as base spec with steel wheels, and up to a 'V-Cross' variant with fashionable black exterior highlights.
So, what about the hardware? Well, traditionalists will be happy the 3.0-litre turbo-diesel four-cylinder engine lives on. However, cynics will also be pleased that it has been revised and tuned. The result is power is up from 130kW to 140kW, and torque is raised from 430Nm to 450Nm.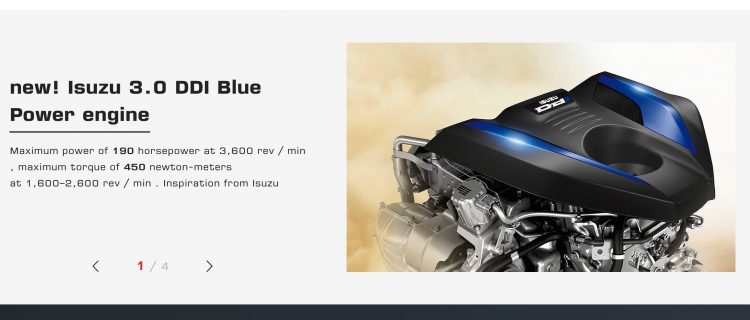 They are only small increases, but increases nonetheless. Isuzu has been using this engine, in various forms, since around 2006. So an update is highly welcome. The compression ratio remains at 16.3:1, and peak power is reached at 3600rpm. However, peak torque increases its spread from 2000-2200rpm in the old model, to 1600-2600rpm for this new model. Fuel economy figures are yet to be confirmed, and the fuel tank remains at 76L in capacity.
As before, a 1.9-litre twin-turbo four-cylinder diesel is set to carry on in some markets. The smaller engine passes stricter Euro VI emissions regulations, while the 3.0L only meets Euro V. We suspect the 1.9L might eventually be worked into the Australian market as our rules tighten up further down the track.
Other hardware changes include the introduction of a locking rear differential, finally. For years the D-Max has been known as one of the most rugged utes on the market, yet it hasn't been offered with a rear diff lock like so many competitors are – it's not even a limited-slip diff.
Although the current model does feature a traction control brake-style limited-slip system, the locking diff should help to improve its off-road performance. Also helping in this department, the water wading depth has been increased from 600mm to 800mm, while hill start assist is being introduced for the first time. The ground clearance is also raised from 235mm to 240mm, according to Thai specs for the dual-cab 4×4.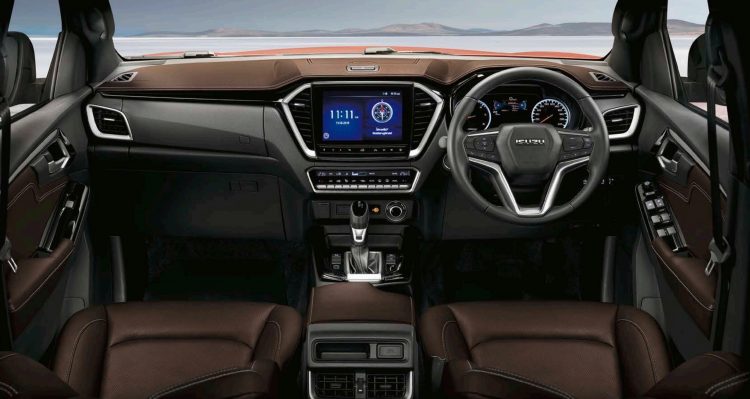 Perhaps the most impressive part of the new model is the vastly updated interior. It features a brand new 9.0-inch touch-screen media interface which is finally packaged with Android Auto and Apple CarPlay. The instrument cluster is also modernised with a 4.2-inch digital display in between traditional mechanical gauges. According to the Thai brochure, the top V-Cross will come with a surprisingly plush brown leather-style interior option as well.
Other nifty updates include a one-touch indicator stalk with three blinks, auto headlights and wipers, keyless entry and push-button start, walk-away automatic locking, rear climate vents, new dual-zone climate control, and, finally, a fully adjustable steering column with rake and reach movement. These might seem like conventional items to most, but they have been omitted from the D-Max until now.
Safety also takes a significant leap forward. Incoming are systems such as blind-spot monitoring (a feature only recently introduced with the upper-spec MY2019 MU-X), as well as rear cross-traffic alert, front and rear parking sensors, and larger front brakes.
In terms of the Mazda BT-50 partner vehicle, as far as we know Mazda will adopt this new D-Max's platform in around two years. Mazda is likely to continue with the current Ford Ranger-based setup, including its 3.2-litre five-cylinder engine, until then. But as announced a couple of years ago, Mazda and Isuzu have entered a partnership deal and a switch to D-Max foundations is inevitable.
Isuzu Ute Australia is yet to confirm any local details of this 2020 Isuzu D-Max. Since the MY2019 version was only introduced a few months ago, our guess is the local arm will refrain from talking about this new model to avoid deterring potential buyers of the MY19. However, local details will probably be announced late this year or early in 2020. Keep in mind this is the Thai-spec model and specifications and features may differ for Australia.