If you're after a rugged and dependable work ute that can also take the family out for an adventurous weekend away, the 2019 Isuzu D-Max should be on your must-check shortlist. Here's why.
Before we get into it let's get some of the fundamentals out of the way, such as the model lineup and prices. Fortunately for us, this part is going to be pretty easy to write up as there aren't really any significant changes for the 2019 D-Max over the 2018 model. There are some new side steps, new wheels, and piano black trim inside, and that's about it.
In terms of the dual-cab 4×4 models, you have the mining-spec SX, then the LS-M, LS-U, and LS-T to choose from. There's also the limited edition X-Runner which is based on the top LS-T. Here we're testing both the X-Runner (white) and LS-T (blue). They are essentially the same except for some red highlights and bonus accessories for the X-Runner, which we'll go over later.
Prices range from $43,400 for the entry SX 4×4 dual-cab, and move up to $46,900 for the LS-M 4×4, and $48,800 for the LS-U, and from $54,800 for the auto-only LS-T. The automatic option is $2100 for all other models. The X-Runner, of which there are only 645 available, is priced from $54,990. In that sense you'd be nuts not to go for the X-Runner over the LS-T, if they haven't already sold out that is.
Just looking at the prices, we think they are positioned a touch too high in the current market, especially considering Isuzu hasn't made any significant changes or even introduced new technologies or powertrain systems for quite some time. We guess Isuzu could get away with a small premium due to its excellent track record for durability.

2019 Isuzu D-Max X-Runner – THE SPECS
Engine: 3.0-litre turbo-diesel four-cylinder
Output: 130kW@3600rpm / 430Nm@2000-2200rpm
Transmission: Six-speed auto
Drive type: Part-time four-wheel drive
Wheels: F & R: 18×7.0, 255/60
ANCAP: Five stars
Tare weight: 1970kg
Power-to-weight: 15.15:1 (kg:kW)
Official fuel economy: 7.9L/100km
Economy during test: 8.5L/100km
Fuel capacity/Type: 76L/Diesel
Power efficiency: 16.45kW:L/100km
0-60km/h: 4.40 seconds*
0-100km/h: 10.35 seconds*
60-110km/h: 7.74 seconds*
1/8 mile: 11.25 seconds at 103.8km/h*
1/4 mile: 17.38 seconds at 130.1km/h*
Max acceleration: 0.707g
100-0km/h braking: 3.38 seconds at 43.50 metres*
Max deceleration: -1.093g
Decibel at idle: 51*
Peak decibel at 60-100km/h: 83*
Priced from: $54,990
* Figures as tested by PerformanceDrive on the day. Factory claims may be different

2019 Isuzu D-Max X-Runner – THE PACKAGE
Going for the X-Runner brings in some sporty highlights for the interior and exterior. There are red badges on the outside, as well as black decals and front end garnishes, and a black sports bar in the back. You also get the factory-fit full tub-liner, which is nicely contoured to the tray.
Taking a look inside, the leather-style seats feature red stitching and there are red highlight trim pieces for the dash and door cards. Other than that, it is pretty much in LS-T form. The red certainly adds a distinct flair to the cabin and helps to brighten it up a bit over the mostly mono-tone LS-T.
Unfortunately, Isuzu has not made any changes to the 8.0-inch touch-screen media interface (7.0-inch screen for SX and LS-M). The menu layout is very basic, with big buttons for the applications making it very user-friendly, but there is no Android Auto or Apple CarPlay. It does include sat-nav and a rear-view camera, though.
We think this is a letdown considering most of the rivals offer more advanced screens these days, particularly when it comes to graphics and functionality. Isuzu could have introduced Android or Apple connectivity quite easily to give the screen an instant boost in depth and function.
Comfort in the front is quite good, although like most utes the driving position isn't completely natural, but you do get used to it. There are bottle holders in the doors, pull-out cup holders from the dash, and two more cup holders in the centre console. There's also a decent-sized centre storage box that doubles as an armrest.
We're not a huge fan of the tray in front of the gear selector as it doesn't seem deep enough. It will hold your smartphone, but corners and speed bumps can quickly dislodge it. While tough and hard-wearing plastic can be good for durability, this style of material is used in many areas in the D-Max, detracting from the sense of luxury and prestige otherwise presented in a flagship variant.
Rear seating is more than acceptable for the dual-cab class in terms of legroom, headroom and facilities. You have a flip-out cup holder pod so all three passengers can utilise it, as opposed to the common cup holders from a flip-down centre arm rest. And there's a discreet USB port in the back of the centre console.
One of the biggest updates for the MY2019 is Isuzu's new six-year/150,000km warranty coverage. It also comes with six years roadside assistance, and seven years capped-price servicing (up to 105,000km). It means the scheduled servicing costs compile up to only $3600 over the course of seven years.

2019 Isuzu D-Max X-Runner – THE DRIVE
Matching perfectly with the somewhat basic yet user-friendly interior, the D-Max's drive character is familiar and easy-going. It doesn't feel like a truck, like some rivals, but then there is enough 'truck' feel to give you that commanding and tall-standing confidence. The steering is nicely weighted and easy to predict, and while no utes offer the feedback of a sedan or hatch, there is enough communication in the D-Max to place it near the top of the class in our opinion.
Around town the ride can be rigid and jiggly in the back as there is a live axle arrangement with leaf springs. But, again, the ride quality is decent enough to put it near the class standards. Body roll is kept to a minimum and there isn't an excess of steering turns lock-to-lock. Parking can be tricky purely because of its 5295mm length, but it's a similar story with all dual-cab utes, unfortunately.
When it comes time to get out of the urban jungle and onto the open road, the engine noise becomes very apparent. This is a noisy engine, even compared with diesel rivals. At 3.0 litres capacity and four cylinders, each piston is big which means big combustion. So, yes, there is an excuse for more noise than the competitors. However, we think MY2019 would have been a great opportunity to introduce extra sound insulation and refinement.
At highway speeds the engine hums along fairly comfortably; you can hold a normal conversation in the cabin without raising your voice too much. So this is a good thing for those interested in doing plenty of travel. It seems to us that the noisiest and most unpleasant part of the engine sound is during acceleration off the lights, and during overtaking. If you have the patience to drive at a very leisurely pace, you might be able to lesser the impact by allowing the transmission to upshift nice and early.
In terms of performance, the D-Max is actually one of the fastest dual-cab 4×4 diesel utes we've tested. Flat-out acceleration across 0-100km/h can be achieved in 10.35 seconds, according to our Vbox Sport. We put a lot of this down to the well-matched six-speed auto transmission and the somewhat light tare weight of 1970kg (for this class).
Off the road, the D-Max is a very respectable performer, as we saw during the official media launch event at the Australian Automotive Research Centre (AARC). You have 235mm of ground clearance as well as an approach angle of 30 degrees. The departure angle isn't as impressive, at 22.7 degrees. If you go for the genuine tow bar you won't have to worry about that departure angle as much.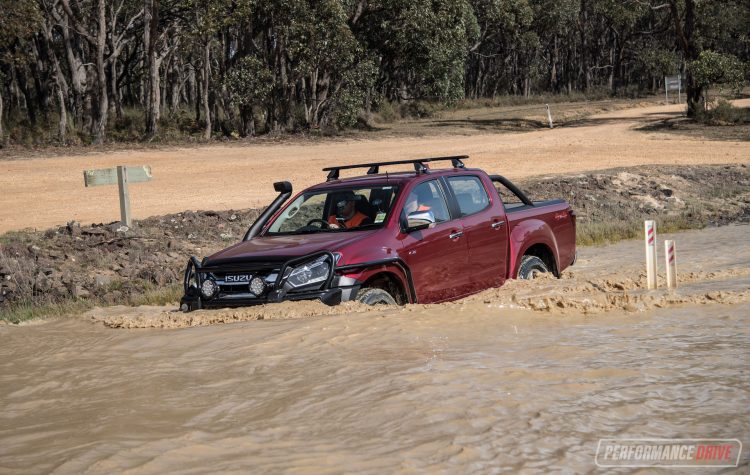 In our opinion, the D-Max is a great off-road vehicle for a wide range of driver types and skill levels. Novices can enjoy the simplicity of the drive modes and running gear, while intermediate drivers will enjoy its ruggedness, electronic brake-style rear differential, and available high and low range, as well as the standard hill descent control. Very experienced off-road drivers will miss the lack of a limited-slip diff or even locking diff, but the overall ability through fairly serious dedicated off-road tracks should put a smile on your face.
The 3.0-litre engine also helps in this department. With 430Nm available between 2000-2200rpm, the torque heaves you up steep inclines and helps claw you through sticky mud or arduous sand with no problem. What might be disappointing for some of the more hardcore off-road enthusiasts is the fact Isuzu has switched to a highway terrain tyre (255/60) for MY2019, swapping from the old all-terrain type. The move was made to help improve on-road touring comfort and economy.
2019 Isuzu D-Max X-Runner – THE VIDEO
2019 Isuzu D-Max X-Runner – THE VERDICT
The D-Max continues as a dependable and durable machine in the dual-cab 4×4 ute class. We think it is showing obvious signs of age in some areas, particularly when it comes to technology. However, the 3.0L turbo-diesel engine proves to be a strong contender in this class for performance and fuel economy – we averaged 8.5L/100km. And when it comes to sheer user-friendliness, the D-Max is at the top of the class.
With the X-Runner package or not, the styling is well-proportioned, clean, and tough, all in one. If you can get your hands on the limited edition X-Runner though, we think it's a no-brainer stepping up from the LS-T flagship as the price jump is miniscule.
PROS:
– Tough and durable
– User-friendly controls
– Decent performance (for this class)
– Largest 4CYL engine capacity in the class; great for towing
– 6-year warranty
– X-Runner pack adds style

CONS:
– Lacks modern in-car tech
– Safety tech falling behind rivals; no AEB
– Interior design and operation is a bit crude
– No major updates for 2019 yet price climbs $100 (LS-T)
As always, if you're thinking about buying a new car don't forget to click here to speak with our car buying specialists.