Isuzu Ute has launched the MY2019 Isuzu D-Max and MU-X range in Australia. While there aren't any big changes, loyal customers will appreciate the fact the tried, tested, and very trusted formula carries on.
The D-Max and MU-X continue to share the same running gear, with a 3.0-litre turbo-diesel four-cylinder continuing to produce 130kW and 430Nm. It remains as the largest-capacity four-cylinder diesel in the class.
For the 2019 D-Max, Isuzu has made some minor styling tweaks, adding a freshened up front bumper bar with revised grilles, added new moulded side steps for the LS-U and LS-T variants, while new-look 18-inch alloy wheels are fitted to the top models. A similar update is applied to the MU-X – more on that below.
Isuzu Ute Australia is planning to crack a new sales record in 2020, hoping to surpass the 30,000-unit mark. During 2018 the local arm sold 27,640 vehicles, with the D-Max posting an impressive figure, giving it fourth place overall in the competitive ute segment. MU-X sales also placed it in fourth position in its respective class. Are the MY2019 updates substantial enough to help influence a new sales record? Let's take a closer look.
For this review we're down at the bottom end of mainland Australia for the official media launch event, which concluded on Tuesday. The two-day event included some on-road testing on one of Australia's most famous driving roads, the Great Ocean Road, as well as thorough off-road testing at the Australia Automotive Research Centre (AARC), just to the north.
To start with we jumped in the MY2019 D-Max LS-U dual-cab 4×4. This could be viewed as the core model, sitting in about the middle of the range. No major changes are made to the interior for the MY2019 update, which is quite disappointing. The same old touch-screen carries over, lacking Android Auto and Apple CarPlay, with the exact same dash and instrument cluster layout as before.
One of the main attractions to the D-Max has always been the large capacity engine. This unit, codenamed 4JJ1, has actually been around since 2004. Although, refinements have been applied to it over the years. It's easy to argue that it is in need of a major update. However, with 130kW and 430Nm available, it does remain near the class average. And in an Isuzu kind of way, it could be a case of, 'if it ain't broken, don't fix it'.
During the media event there were questions thrown around about why the engine hasn't been updated, and questions about when we can expect to see a major update. Like many carmakers, Isuzu refrained from talking about its future products. As we know, however, the next-gen D-Max is set to pair with Mazda in some form or another, which likely means there won't be any changes under the bonnet until that happens.
It is an older engine, yes, but that doesn't mean it's past its day. The grunt available is respectable for the class, with peak torque available from just 2000rpm thanks to a variable geometry turbocharger. This low-end response is made even more useable thanks to a well-matched six-speed automatic. Again, some would argue this isn't enough gears. But due to the large capacity of the engine, each gear is easily pulled through.
We do think the engine is noisy compared with rivals though, giving off a clear diesel clatter during many parts of the rev range. This could be more pronounced due, simply, to the large volume of combustion for each cylinder. And being only a four-cylinder, outright harmony can't really match a five- or even six-cylinder unit of the same size.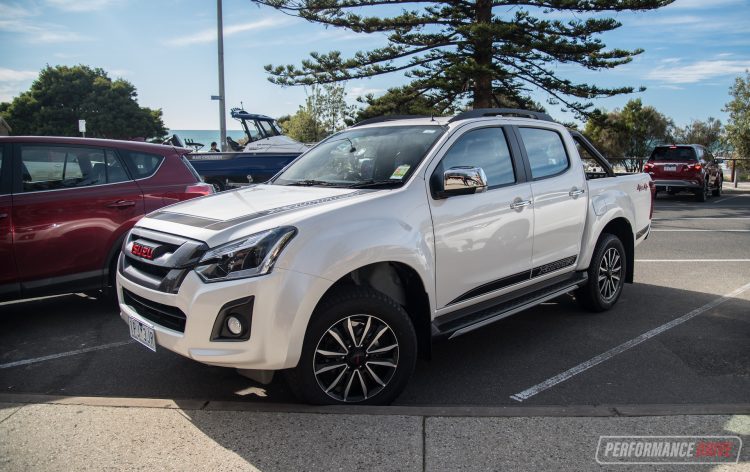 Along the Great Ocean Road the D-Max proves to be a good country tourer, even in the twisty stuff. Obviously it's not as well-mannered or as fun as a low-riding passenger car, but it does sit in about the middle of the class for on-road dynamics in our opinion. There are some worse-handling dual-cab utes on the market, but there are also superior ones.
Isuzu has switched to a highway terrain tyre for the MY2019 D-Max LS-T and MU-X LS-U and LS-T (255/60R18), which is more road oriented than the previous setup. During our test they did show typical premature tyre squeal from the front end in sharper bends, but the tyre roar seems reduced and thus comfort more refined. Isuzu says it has gone for this tyre because most of its customers, of these variants, spend more time on the road than off, according to its research.
Next up, we jumped into the new D-Max X-Runner special edition. You might remember this name from the previous model. It's essentially a sticker pack for the dual-cab, based on the top LS-T variant. Unfortunately, Isuzu has missed a great opportunity here we feel. While many of the competitors are offering some kind of highly-accessorised aspirational model, the X-Runner only comes with a black sports bar and full tub-liner.
Sure, there are some stickers, new interior trims in red, and dark-themed alloy wheels, but these hardly alter the fundamental composition or capability of the vehicle. Isuzu does have a vast range of accessories for the D-Max (and MU-X) available, from full bull bars, snorkels, canopies for the tray, and towing setups. We think it would be great if Isuzu jumped on the trending 'rugged variant' bandwagon, and put together a comprehensive model and made it a permanent resident of the showroom. We think something like this could really help the company hit its sales target.
Back to the X-Runner though, of which only 645 units are being made available, it is a nice option for those wanting a bit of luxury and a dash of exclusivity with their durable ute. Some leather-like trim is applied to the dash helping to increase cabin insulation, as well as improve cabin acoustics so there's none of that echoey resonation you get from some rivals and the more basic variants.
The touch-screen media interface in the X-Runner is particularly behind the class standards, for a flagship variant. The screen graphics and built-in apps are a bit crude, albeit very user-friendly, but there is no Android Auto or Apple CarPlay – as mentioned above for other variants. Even just a software update to include these connectivity services could really help to instantly improve the unit's functionality we think. We also noticed there's no digital radio. And again, this is for the top-dog X-Runner, which is priced from $54,990. Though, you do get Bluetooth and USB connectivity across the board.
During our stint in the X-Runner we were taken up into the hinterland from Lorne, towards the AARC. This gave us the opportunity to test its higher-speed touring capability, and assess the ride comfort. The D-Max continues with live axle rear suspension with alloy-steel over-slung semi-elliptic leaf springs and gas shocks, paired with an independent front end. In our opinion the D-Max ride quality is pretty good for the class. Some dual-cab competitors present a very jiggly ride, but there are also some that offer a more comfortable ride thanks to coil springs. Obviously coil springs have their disadvantages when it comes to heavy-duty requirements.
Out on the open road the D-Max cruises just fine, and the engine clatter does tend to settle down at these speeds. Cruise control is standard on all variants, but the D-Max does miss out on adaptive cruise, even on the top LS-T and X-Runner. On that note, there's also no autonomous emergency braking for any model. This will come as a disappointment for safety-conscious customers, and could be a problem for some fleet buyers that have strict criteria.
For the off-road test we were given the opportunity to use the AARC's dedicated facilities. This included water crossings that were about 40-50cm deep according to the level sticks poking up (pictured above – they had measurements on the other side), a steep concreted gradient to sample the excellent hill descent control system, and some deep ruts and trenches to exploit the ground clearance.
During the tests we had no issues at all with any of the selected courses, aside from some minor underbody scrubbing and tow bar touches. In our opinion, the D-Max continues to meet the benchmark standards for a factory dual-cab ute in these sorts of conditions. The lack of a rear diff lock or limited-slip diff means it's not the absolute best off-roader in the segment, but it is very well sorted and certainly lives up to its intended duties. There is also the brand's impeccable reliability to factor in to the overall cross-country performance.
As for the MU-X, we only had a very short drive in it during this event. The biggest hardware change for the MY2019 introduction is found with the MU-X. Isuzu has made some revisions to the steering system so that it offers a lighter weight feel at low speeds, while maintaining its sturdy feel at higher speeds. We didn't notice any difference compared with the previous model, albeit keeping in mind we only had a short drive.
As before, the MU-X gets an exclusive coil-spring rear suspension setup. It is noticeably more comfortable and more compliant on ordinary roads compared with the D-Max. The new MU-X also showcases some minor styling updates, including a new grille piece and updates for the front bumper bar, new-look 18-inch alloy wheels for the LS-U and LS-T, and some new interior trim pieces for all variants.
So, even though Isuzu hasn't introduced the MY2019 as a big update, most of its customers are no doubt going to be happy the same durable formula is carried through. To sprinkle some extra icing on the top, Isuzu is announcing a new 6-year/150,000km warranty for its vehicles, with 6 years roadside assistance and a whopping 7 years capped-price servicing. This should go down very well with potential buyers.
We are aiming to put together a more in-depth review of both the new D-Max and MU-X soon. In the meantime, prices for the D-Max start from $28,600 for the single-cab SX manual, and from $42,900 for the MU-X LS-M auto 4×2 (excluding on-road costs). See below for the full list of starting prices.