Subaru has revealed a light update for the 2020 Subaru Impreza in its home market in Japan, bringing in refreshed styling, updated interior technology, and increased safety.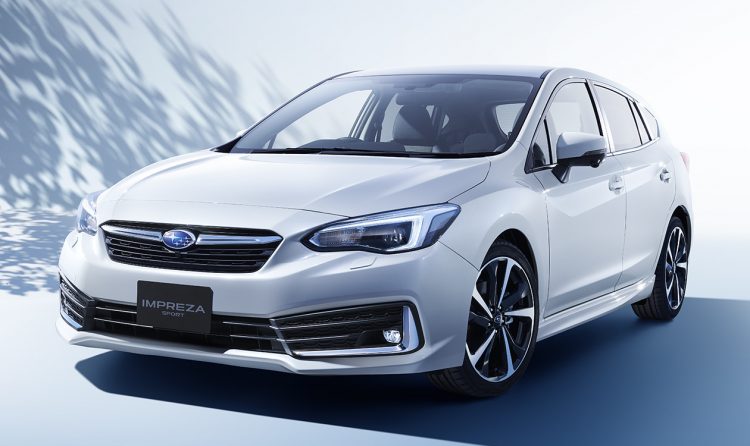 Starting with the design, Subaru has applied new-look front and rear bumper bars, with an elegant full-width intake system in the lower front end. This matches a revised central grille which also features horizontal slats. There's also LED headlights with an updated inner design, with adaptive beams available, and fresh taillights at the back. Some fancy new alloy wheel designs complete the visuals.
It looks like both the hatchback and sedan body styles will carry over, with two main trim lines (for Japan, anyway). There's the Sport and the G4. These are then split up with a 1.6L petrol and 2.0L. Specifically, the 1.6i-L, 1.6i-S, 2.0i-L, and 2.0i-S. Power outputs remain unchanged, at 85kW and 148Nm for the 1.6, and 113kW and 196Nm for the 2.0. Again, this is for the Japanese model. In Australia only a 115kW 2.0L unit is available.
Inside, Subaru has made various refinements to improve comfort and convenience. The driving position has been updated and the side mirror angles have been altered for a clearer view, with automatic-folding mirrors available during locking and unlocking. There's also seat position memory for models with a power adjustable driver's seat, and the memory includes the position of the side mirrors.
Thanks to a new front-mounted camera, Subaru has introduced a front-view monitoring system. This gives drivers more confidence when parking, with a wide angle to see cross-flowing traffic. Also helping with safety, iSight Touring Assist is now standard on all grades. It offers brake, steering and throttle assistance at a wide range of speeds, Subaru says.
Subaru first introduced the current, fifth-generation Impreza back in 2016. It debuted the new Subaru Global Platform, which has since made its way under the XV and Liberty. However, the WRX sports model remains on the old Impreza platform. And on that note, there are no further details regarding the future of the iconic WRX unfortunately.
The 2020 Subaru Impreza goes on sale in Japan this month, with an Australian arrival likely taking place before the end of the year. Specifications and options may vary for the local model compared with what has been mentioned above. We'll keep you posted.