Daimler-owned city car producer has unveiled its all-new generation 2020 Smart Fortwo and Smart Forfour ahead over their proper unveiling at the Frankfurt motor show next week. They show off a fresh and quirky design, and debut new levels of technology.
The design is being described as a mature theme for a new era of motorists. You might notice the beady headlights incorporating LED daytime running lights, as well as the open-mouthed front grille, and rather muscular wheel arches that give the city car a more prominent stance on the road.
Inside is a much more modern design theme, with the latest UX interface that relies purely on the user's mobile phone. The system includes an advanced Smart EQ control app, with commands such as "ready to park" and "ready to spot" for assistance with parking.
As for the power source, all models switch from combustion engines to a fully electric lineup across the board. Three models, including the base Fortwo, the Fortwo cabrio, and the Forfour, are powered by a synchronous electric motor that develops a maximum output of 60kW and 160Nm.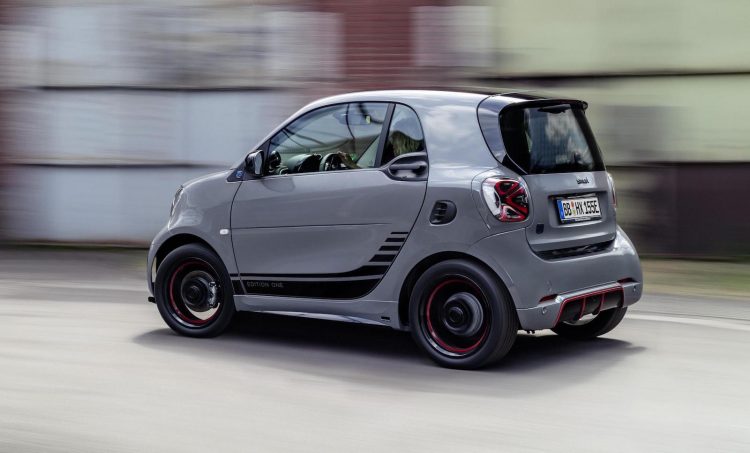 Across the standard 0-100km/h sprint, the standard model takes 11.6 seconds, and then 11.9 for the cabrio, and 12.7 for the four-door. With a full charge, the range is rated between 147-159km, 145-157km, and 140-153km, respectively. The top speed is 130km/h for all three.
When it comes time to recharge, the 2020 Smart comes with a 22kW on-board charger with rapid-charging capability. With the rapid charger users can replenish from 10 per cent 80 per cent battery level in under 40 minutes. Billing for public charging stations, where applicable, can be done through the EQ control app. Speaking about the new model, Daniel Lescow, head of brand and product management at Smart, said:
"As a pioneer of urban mobility, it has always been part of smart's credo to rethink things. The switching of the entire product range to all-electric powertrains marks the start of a new chapter in the story of the smart brand. In concert with innovative sharing concepts and digital services, we are the first manufacturer to switch completely and systematically from combustion engines to solely electric powertrains."
At this stage there are no plans to introduce the new Smart car in Australia, however, it will go on sale in Europe later this year. More info is expected at the Frankfurt debut next week.