The 2017 Toyota Yaris is now available in Australia, with new safety features and no price increase, except for the flagship ZR.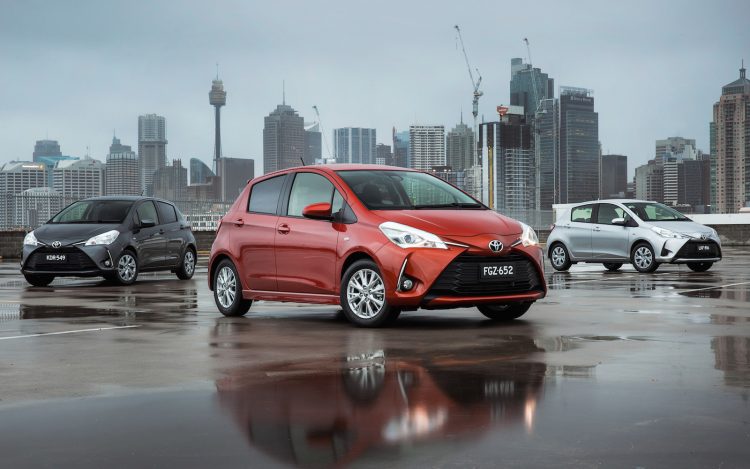 Visually, the updated model brings a new snub-nosed front end and rear lights that extend into the tailgate. This was previewed by the 2017 Toyota Yaris WRC car.
Engines are a carry over 1.3-litre from the outgoing model, producing 63kW/120Nm for the Ascent, while SX and ZR get an 80kW/141Nm 1.5 unit.
Australia misses out on the more advanced 1.5-litre available in Europe, with an advanced new water cooled exhaust, Atkinson cycle and 38.6 per cent thermal efficiency.
A $650 option on the Ascent and SX, but standard on the ZR is a safety pack that includes pre-collision brake priming system, lane departure warning and auto-dipping high beam. Auto transmission continues to be a four-speeder, and a $1530 extra.
Some changes for the interior have been made, receiving refreshment to the infotainment to keep it current against the competition in the light car segment.
The 153kW supercharged 1.8-litre Yaris GRMN won't be coming to Australia at this stage, which is a shame as it looks like it has the makings of a class winner. If, like us, you think it needs to come here then we implore you to get in touch with Toyota via Facebook, email or via a dealership.
If you are just after a safe and reliable runabout here are the starting prices for the new model (excluding on-road costs):
2017 Toyota Yaris Ascent – $15,290 (no change)
2017 Toyota Yaris SX – $17,330 (no change)
2017 Toyota Yaris ZR – $22,470 (up $650)