Ford is planning some pretty major rollouts over the next few years, including launching the new Ford Bronco and new Shelby Mustang GT500, as well as a number of hybrid and fully electric models.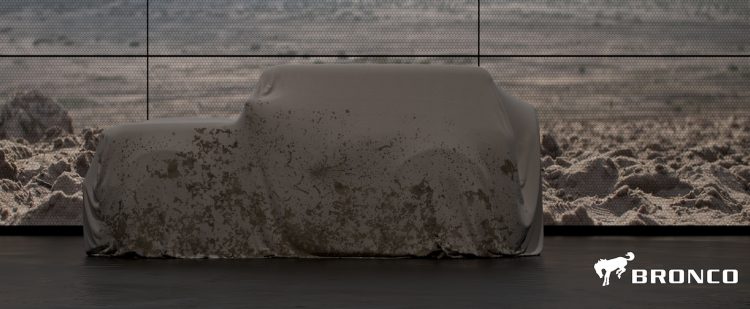 To get the party started Ford has handed out a few interesting teasers, including one of the highly-anticipated Bronco, as well as the new GT500 which is expected to be one of the most powerful V8 muscle cars the company has ever produced.
By 2020, Ford expects SUV sales in the US could account for around 50 per cent of showroom movement, and because of this it is investing US$7 billion in capital from cars into SUVs. The plan is to have eight SUVs by 2020, including five that will be offered with hybrid systems and at least one with a fully electric powertrain.
One of the most interesting new models on the way is the new Bronco. It's set to be based on the Ranger, and is just one of two all-new models that will be launched. Ford says another, yet-to-be-named off-road-focused small utility vehicle will be launched (previewed above). Ford says both of these will be designed for people who enjoying getting away and into the outdoors. Jim Farley, Ford president, global markets, said:
"Ford helped start the off-road phenomenon and has majored in off-road capability for decades – from the Bronco to the Raptor. Now, we're ready to reclaim our rightful place as the off-road vehicle leader."
Also in the mix of SUVs is the new Edge ST. At this stage it doesn't look like Australia will receive a performance iteration of the locally badged Endura. But overseas the Edge ST is expected to be pretty popular. Ford US confirms an Explorer ST will also be launched in the coming years. Ford Performance predicts its sales will grow another 71 per cent by 2020, and mostly driven by SUVs.
As for the GT500, no specific details have been revealed. Except, we've got this teaser image to drool over. There's be rumours the new model will come with a forced induction version of the GT350's 5.2-litre 'Voodoo' V8. Either way, output is set to be around the 522kW mark, according to a recent teaser.
Speaking of the Mustang, Ford will launch a hybrid Mustang that promises "V8-like performance" with even more low-end torque. The Mustang is just one of many models that will receive a hybrid option over the next few years. There's even going to be a hybrid F-150, Escape, and Bronco. In a statement, Farley explained:
"Hybrids for years have been mostly niche products but are now on the cusp of a mainstream breakout. The valuable capability they offer – plus fuel efficiency – is why we're going to offer hybrid variants of our most popular and high-volume vehicles, allowing our loyal, passionate customers to become advocates for the technology."