A preview of quite a stunning new Audi in the works has surfaced, going by the name the Audi e-tron GT. It's being pitched as a Tesla Model S rival, only with more luxury and a more elegant design.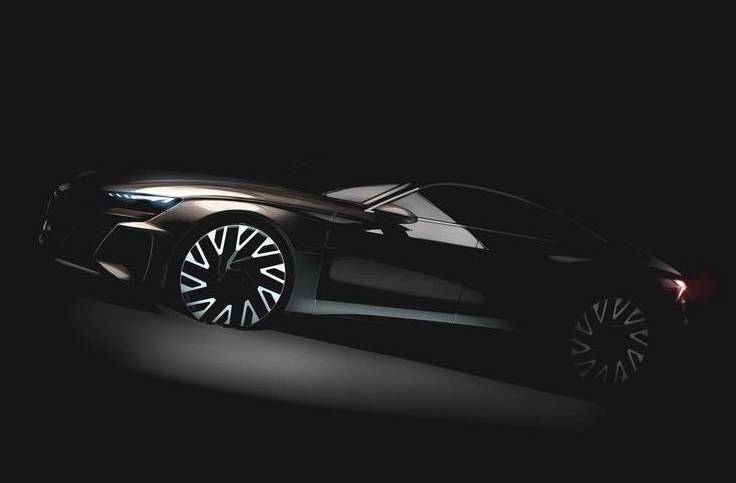 You can think of the e-tron GT as Audi's version of the Porsche Mission E. It's set to share a number of components including the platform, and possibly the electric powertrain. It's going to be one of three all-new, all-electric models to be released from Audi, joining the e-tron quattro SUV and a production version of the e-tron Sportback concept.
The plans were announced at the company's annual press conference in Ingolstadt, Germany, where a presentation revealed a glimpse of the GT, as shown above. At the conference the company chairman Rupert Stadler said:
"We interpret sportiness very progressively with our fully electric e-tron GT, and this is how we will take our high-performance brand Audi Sport into the future."
Production of the GT is set to happen at the Audi Sport Bollinger Hofe facility in Germany from 2020. It will sit near the very top of Audi's range, coming in as a luxury grand touring four-door coupe, above the A7 and even the S7. It's unclear how much power it will offer, or what kind of range it'll stretch to, but in the hands of Audi Sport we suspect both mysteries will be impressive.
As for the design, well, Audi usually gets this part down pat. The teaser sketch shows a long, elegant body with a low profile glasshouse area, raked A- and C-pillars, and a sophisticated front end with some flashy and very thin LED headlights that likely showcase matrix technology. Aside from the giant wheels, the production version is expected to look very similar, but we'll have to wait and see.