Some images of the next-gen, 2019 Suzuki Jimny have surfaced online, giving us the best look yet of the plucky compact off-roader before its official debut.
The images were recently posted on Instagram, showing a funky green Jimny during what appears to be some kind of special presentation event. As previewed by patent images and design sketches, the new model will carry over its traditional boxy and rugged shape.
Most of the panels are pretty much flat and without contour aside from a few crease lines and highlights around the wheel arches. At the front is a distinct five-slot grille with two beady headlights, and fog lights mounted in the black bumper bar.
It's believed this example is a base variant and might be subject to different certification to the version that will be sold in Australia. It does feature alloy wheels but the wheel arches lack extensions that we've seen on prototypes, and the front bumper bar seems quite bare.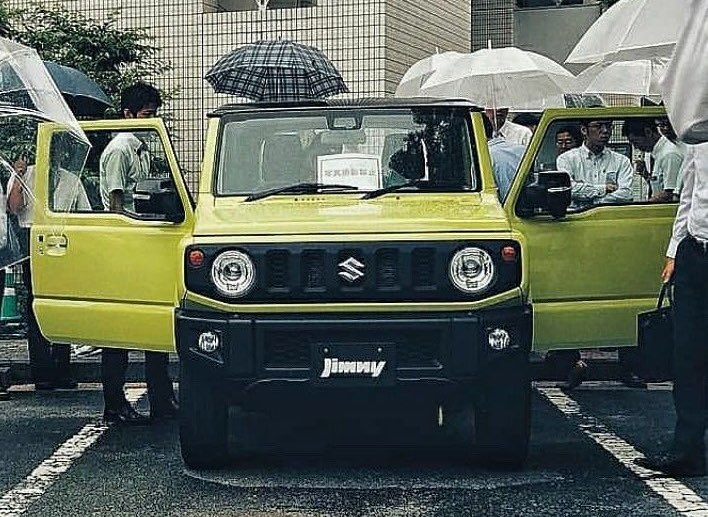 Details regarding the engine are still unconfirmed, however, most speculation points to a 1.0-litre turbo-petrol three-cylinder engine. Suzuki offers such a unit in the Baleno and Swift, where it produces 82kW and 160Nm. This could be a handy little unit for the lightweight Jimny, bringing a neat jump in torque over the current 62.5kW/110Nm non-turbo unit.
Underneath it all the 2019 Suzuki Jimny is set to retain a full ladder-type chassis with live axle suspension front and rear. Off-road capability is likely to be a strong focus, but the interior is set to incorporate Suzuki's widely used touch-screen media interface to help it win over younger generation buyers.
Given this example seen here is in complete, ready-for-showroom trim, we'd expect an official reveal very soon. The last we heard the public debut might take place at the Tokyo motor show in October. Stay tuned.