Do you remember the time you built your first billy-cart? It was so exciting wasn't it? Were you the first to drive it? If you can remember that first moment it rolled down the hill, and remember the immediate smile that sprouted across your face. You couldn't believe it was rolling. It was steering. All of your hard work had eventuated in the creation of something great. This was going to provide hours and hours of fun for you and your friends. We reckon the people that came up with the 2019 Suzuki Jimny experienced the same feelings of joy and accomplishment when it hit production.
This is the all-new Jimny. It's been a few years in the making, and now it is finally here. Well, that's if you can find a Suzuki dealer that can get you one. According to dealers we spoke to (based in Sydney), the waiting list is well over six months for a new order. But it seems most buyers are willing to wait as long as it takes.
If you are in the market for a new Jimny, we don't think there's a review out there that could possibly discourage you. So, for this review we're simply going to provide as much detail as we can, as well as provide our impression of the car based on the two-week experience we had with a manual and auto.
As outlined during the official media launch event earlier this year, the new Jimny arrives in Australia as a single variant, with no optional extras available. We have learned that overseas models do come in other trim levels and with other features. Here, you can either opt for the five-speed manual which starts from $23,990, or the four-speed auto which starts from $25,990 (excludes on-roads).
2019 Suzuki Jimny – THE SPECS (auto in brackets)
Engine: 1.5-litre four-cylinder
Output: 75kW@6000rpm / 130Nm@4000rpm
Transmission: Five-speed manual (four-speed auto)
Drive type: Part-time RWD/4WD
Wheels: F: 15×5.5, 195/80
ANCAP: Three stars
Tare weight: 1075kg (auto 1090kg)
Power-to-weight: 14.3:1 (kg:kW)
Official fuel economy: 6.4L/100km (auto 6.9L/100km)
Economy during test: 7.1L/100km (both)
Fuel capacity/Type: 40L/91 RON
Power efficiency: 11.71kW:L/100km (auto 10.86kW:L/100km)
0-60km/h: 5.42 (6.19) seconds*
0-100km/h: 12.02 (15.15) seconds*
60-110km/h: 8.89 (12.29) seconds*
1/8 mile: 11.95 at 99.6km/h (12.65 at 92.1)*
1/4 mile: 18.43 at 120.9km/h (19.69 at 113.2)*
Max acceleration: 0.681g (0.548g)*
100-0km/h braking: 3.94 seconds at 50.17 metres*
Max deceleration: -0.997g
Decibel at idle: 39*
Peak decibel at 60-100km/h: 89*
Priced from: $23,990 (auto $25,990)
* Figures as tested by PerformanceDrive on the day. Factory claims may be different

2019 Suzuki Jimny – THE PACKAGE
We lied. Actually, there is one option you can tick; metallic paint. As in the case of both of these test vehicles, the Kinetic Yellow hero colour will set you back an additional $1250. Other metallic options are $500, and only Superior White is free. Colours include; Brisk Blue and Chiffon Ivory (both $1250), as well as Jungle Green and Medium Grey ($500), and Superior White (no-cost option).
Open the classically thin door and you're presented with what looks like a cartoon version of a rugged little off-road car. You've got exposed hex key bolts holding together parts of the dash, with two sports-watch-like instrument dials plonked in front of the steering wheel. Tradition is pretty much thrown out the window when it comes to the interior design. Suzuki has fitted its widely-used 7.0-inch touch-screen for the dash, packed with sat-nav, a rear-view camera, and even Android Auto and Apple CarPlay, all as standard.
Down below the touch-screen interface is a simple layout for the climate control, with a quartet of buttons dangling along the lower fascia. Everything is exactly where you'd expect it to be, and most controls are within arm's reach. Even so, Suzuki designers have managed to create an energetic and entertaining decor for it all. In other words, it is likely to take a long while before it seems boring. We love the way the exterior paint overflows onto parts of the interior. We also adore the passenger grab handle which is neatly crafted into the robust dash theme.
In terms of the standard safety tech, the Jimny comes with autonomous emergency braking, lane departure warning, weaving alert, high-beam assist and auto-on LED headlights, six airbags, and the usual acronyms; ABS, SC, TC, EBD, and BA. This is all very impressive for this price point. However, we should advise the new Jimny has only been awarded a three-star ANCAP safety rating. This is well short of the current market standards.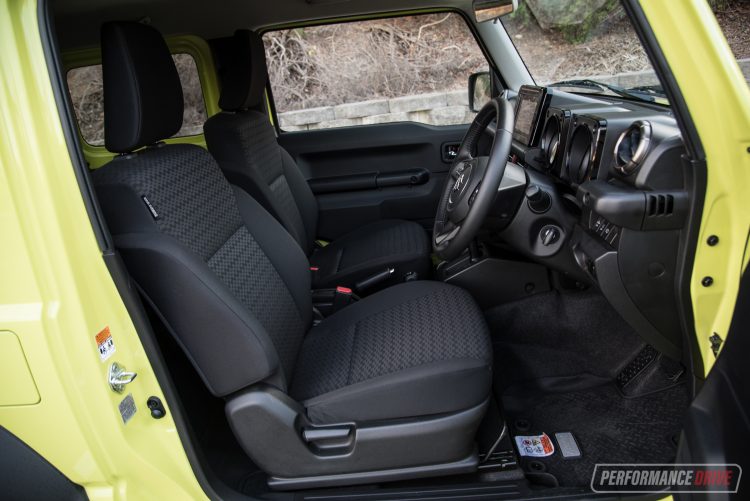 So, how much room is in here? You're probably thinking it's like sitting in one of those coin-operated electric toy cars at the shopping centre. Well you'd be very wrong. The tall ceiling means it is almost impossible to head-butt the roof, even if you're a basketball player. You can adjust the seat for recline and slide only, and the steering column lacks reach adjustment, making do with tilt only. Despite this, you can find a decent driving position by fiddling with all of these controls for a few minutes.
Jumping in, you won't instantly bash your knee up against a thick centre console. That's because this doesn't really have a centre console. As a result, the cabin feels free-flowing and airy, helping to boost the overall perception of roominess, and thus, comfort. There is a little tray to store your phone at the base of the dash stack, and there are a couple of cup holders right at the back of the centre console area.
If you originally thought there would be no room in the front, your head will explode when you climb into the back. It's actually quite roomy. The front seats have a long rail to slide along, with 240mm of adjustment range (up 45mm from the old model). But even when the seat is slid back 70-80 per cent of the way there is room leftover for legs and feet in the back.
This is a strict two-seat rear bench, although that does leave adequate shoulder space. As a word of warning the seat padding does seem thin and basic, with very little lateral support. This could impede on long-distance comfort for individuals riding back here. There are ISOFIX child seat points and a top tether point, and we can confirm a forward-facing baby seat does fit quite comfortably. You can also install a rearward facing seat so long as the front seat is shifted forward a bit.
What is disappointing is the boot space. With the four seats up you're left with just 85 litres. Suzuki has packaged in a little under-floor box right at the back, which is good for wet towels and the such, but in this configuration you will find it difficult to pack a week's shopping or even an overnight bag.
The Jimny is perhaps best used as a two-seater, if cargo space is what you need. The backs of the rear seats are covered in thick plastic panels and fold almost flush. In this layout you're presented with 830L. As a bonus, a 12V pocket socket is located in the back corner.
Compared with the old model the new Jimny is 195mm shorter for length, but 45mm wider. It also rides on the same size 2250mm wheelbase, and overall height is increased 15mm for the new model. Parked side-by-side, these measurement differences seem more exaggerated. The new model looks heaps bigger. We think this might be because of the chunky wheel arches and the two-tone colour scheme. The boxiness of the new model might also enhance its presence.

2019 Suzuki Jimny – THE DRIVE
To start with, we'll talk about our impression of its on-road dynamics and drivability in both urban scenarios and country road conditions. Let's not beat around the bush, it's pretty bad. Body control is evidently lacking. It wobbles and bobs around like a bobblehead toy, and there is premature understeer if you try to tackle corners at anything above a moderate pace.
This is all due to a number of reasons. Firstly, it has the footprint of a thimble. The short wheelbase and the almost non-existent front and rear overhangs result in an overall length of just 3480mm. Add the fairly tall height of 1720mm to the equation, and these dimension simply don't bode well for body control, weight shift, and the general laws of physics.
Another reason is because unlike many small SUVs and crossovers on the market at the moment, the Jimny retains an old-school live axle suspension setup at the back and at the front. At the back, fair enough. It can be possible to create a well-sorted and planted feel. But with a live axle layout employed at the front, this is very difficult. There are essentially no sports cars currently on the market, or even conventional hatchbacks that use live axle front suspension. Not in Australia, anyway.
The main reason body control is lacking, though, is because it is on purpose. This is designed as an off-road vehicle. And you can't really have both. In saying all of that, driving around the city and even in dense suburbs, the Jimny's handling and road manners are actually entertaining. It feels fun because it constantly seems like you're on your way to a safari; everyone is happy, a holiday is near. You find yourself constantly falling into this frame of mind whenever you drive it. Commuting to work on a Monday morning, this could definitely come in handy. Who turns up to work with a smile on his or her face? The person who has just driven a Jimny to work, that's who.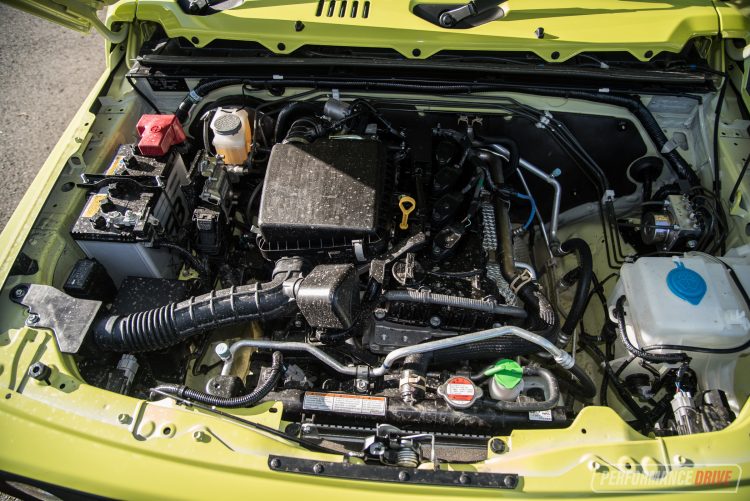 As for the powertrain. Under the bonnet is a 1.5-litre naturally aspirated four-cylinder engine. It's not a particularly advanced unit, but it does feature double overhead cams and variable valve timing, running at a compression ratio of 10:1. Rev it out to 6000rpm and you'll experience the full thrust of 75kW. Just as you swing past 4000rpm you'll get a nice hit of 130Nm.
Given the Jimny weighs in at 1075kg in manual form and 1090kg in auto form, the outfit doesn't exactly need a V8 powerhouse to get things moving. However, we think a little more torque wouldn't go amiss. The need for more grunt becomes most apparent when you go for an overtaking move, or try to beat someone off at the lights, including cyclists.
Sometimes cars that don't perform well in a 0-100km/h test can still feel pretty adequate out on the road. A lot of the dual-cab diesel utes, for example. These don't necessarily record a good sprint time, but out in the real world they get up and shift along with reasonable vigour. We suspect it's mainly the initial getting off the line that damages the 0-100km/h time, specifically.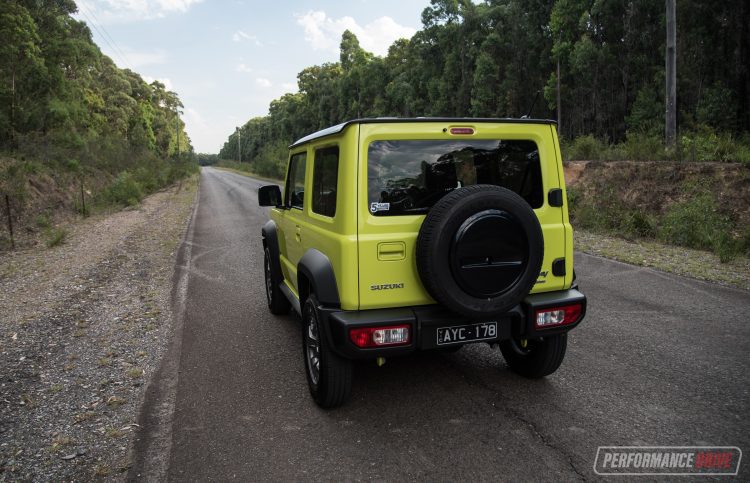 This notion can be applied to the Jimny manual. However, whatever way you look at it, the auto is very slow. Off the mark it's sluggish and builds momentum like a snail, and then at the top end it just seems to whine and moan without actually providing a corresponding sense of speed or acceleration. Overtaking is painfully slow. It'll kick-down almost immediately, and seem like it wants to scream past all cars. But in reality it does scream, but doesn't really move.
Let's throw some facts and science into it. We timed 0-100km/h in 12.02 seconds in the manual. And that's not too bad, for what it is. It's about the same as a Toyota HiLux. Across the same run the Vbox showed a 60-110km/h time of 8.89 seconds. Keeping in mind this is in-gear. You'd have to add extra time to account for actually shifting down a gear in the real-world.
As for the poor old automatic – and we mean old; it's a four-speed auto – our best run for 0-100km/h was a yawn-inducing 15.15 seconds, with 60-110km/h clocked in 12.29 seconds. This is really slow. Slower than a Toyota LandCruiser 70 Series Troop Carrier.
Not only is it slow getting up to highway speeds, the Jimny isn't really geared to maintain such progress. In the manual the final drive ratio is 4.09:1 while the auto uses a 4.30:1 diff ratio. This is a big difference, and it should mean the auto requires more revs to maintain a set speed. During our testing the tacho needle hovered around the 3200-3300rpm mark at 110km/h. This was a very similar story in the manual. This is because the gear ratios in the auto are lined up to work out fairly similar. In fourth gear in the auto it is overdrive, at 0.697:1. Whereas in the manual, fifth gear is straight through at 1:1 ratio.
So, to sum up the on-road assessment. The auto is not the pick if you desire any sort of straight-line performance, and even the manual is comparatively slow for today's market. On-road handling is also below the current market standards for a compact SUV, mainly due to its live axle suspension and short wheelbase paired with a tallish body.
However, the Jimny is slow but it can be a lot of fun in the right conditions. Its adventurous character means it is entertaining, even just to sit in. The Jimny could also appeal to city-dwellers as the fuel consumption is impressive. We recorded an average fuel use rate of 7.1L/100km in both the manual and auto, which is excellent for real-world duties. With a 40L fuel tank, the official average of the manual (6.5L/100km) means you have a theoretical average range of 625km, compared with 580km in the auto (official average 6.9L/100m).
As much as you can criticise the new Jimny for its on-road balance and performance, it means nothing at all when you hit the dirt. We cannot get over how capable this little thing is. By far, it's the pluckiest and most eager factory SUV we have ever driven. Honestly.
What's so special about it? Well, there isn't much to it really. It comes with a part-time four-wheel drive system, with rear-wheel drive in the default setting. There is a two-speed transfer gearbox providing high and low range. There's no limited-slip differential or locking differential at the front or back, though.
Instead, Suzuki has devised what it calls a "brake LSD traction control" system. It works a bit like an electronic limited-slip centre diff, braking diagonal wheels if there is wheelspin detected, forcing torque to be sent to other wheels. It only applies brakes momentarily, and only until traction is regained.
Other than these mechanical components the Jimny is on its own. But, Suzuki has covered this area too. With essentially no front or rear overhangs the approach angle (37 degrees) and departure angle (49 degrees) are awesome for off-roading. There's also 210mm of ground clearance, and not much underneath hanging down to snag protruding objects.
It mightn't look that tough in the images, but as anyone who has been out to Ourimbah will tell you, there are some fairly serious sections out here. Yes, you can find even more hardcore tracks around but in reality, this is just a standard little SUV with road-oriented tyres.
We took on some sections that we'd describe as extremely rugged, and the Jimny skipped up them like a startled goat. In fact, we had to try hard to find the limits of the car. It wasn't until we took on the very poorly maintained tracks that the Jimny hiccuped a little bit. In these sections it was simply a matter of packing up with the track with some rocks and so on, and engaging low range for excellent crawling torque. But again, it's easy to forget this is only a standard production car with road tyres.
To sum up the off-road driving skill, the new Jimny is unbelievably good. It will blow you away. We've driven plenty of serious off-roaders before, and often go 4x4ing with some keen guys from the office who have highly modded and lifted Patrols and LandCruisers and whatnot. But nothing has ever been as impressive as this for a standard small SUV. We think the whole surprise element plays a big role in this too; you don't expect it to be able to tackle the things it does.
Overall, the Jimny is a lot of fun to drive in certain on-road conditions, such as in the city or thick suburbs, and the off-road performance is unquestionably at the top of the class. However, we wouldn't recommend the Jimny for those regularly taking long highway trips. The gearing and the uneasy body stability is just too off-putting. And besides, there are loads of other cars on the market, even in this price range, that can do that stuff better.
In terms of the manual or auto, we must say the auto is far superior to the manual off the road. It's so much easier to apply as much throttle as you need, and you can be more gentle and more precise with your application. The lack of engine power and torque on the road doesn't reveal itself at all when it comes to off-roading. The light kerb weight and torquey gearing means there is no hesitation or lack of grunt. In saying that, if you are planning a lot of on-road driving, such as in the suburbs, the manual is more enjoyable to drive we think and it does offer more favourable acceleration.
2019 Suzuki Jimny – THE VIDEOS
2019 Suzuki Jimny – THE VERDICT
As mentioned at the start of this review, we don't think we (or any publication) could possibly discourage an interested buyer of the new Jimny. We can't quite put our finger on it, but it is such an appealing, attractive, and surprisingly refined, comfortable, and extremely capable little truck. In this day and age, cars, particularly SUVs, have become universal and generic. This is very different. It's refreshing. Yes, it comes with plenty of flaws. But just like that first billy-cart you built, none of them seem to matter at all.
We were going to give you a more serious, journalistic conclusion. But who really cares? If you want one, like we and most of the world do, just put your order in. It's not as if it's super-expensive anyway. The only real areas that might require consideration are the on-road dynamics and body stability, and the three-star ANCAP safety rating.
PROS:
– Unbelievable off-road ability (for what it is)
– Really fashionable and interesting design
– Well-equipped
– Funky colour options
– Good refinement and build quality
– Refreshing, cool, and entertaining character

CONS:
– On-road dynamics
– Tiny boot (in 4-seat configuration)
– Auto is very slow by modern standards
– 3-star ANCAP safety rating
As always, if you're thinking about buying a new car don't forget to click here to speak with our car buying specialists.