BMW test engineers have taken the new 2012 BMW M5 out onto the autobahn in Germany and given it some stick, reaching speeds of around 300km/h (187mph). Video footage of one of the runs has just been put up on BimmerPost, which was recorded by the BMW M Flight president on his mobile phone.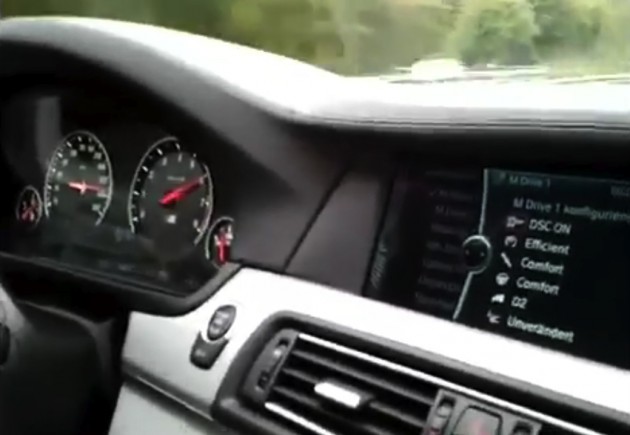 M Flight is a BMW car club for BMW M enthusiasts who get exclusive access to BMW M products and events, including being taken for fantastic joy rides on the highway in the new BMW M5.
The M Flight president, Hans, says that the new 2012 BMW M5 can be taken up to speeds of around 330km/h, but on this outing he says there was too much traffic around, and the highway contained some blind bends. He says the BMW M5 did stay very stable and smooth at 300km/h though, saying that the car feels good on the road even at high speeds.
Click play below and see for yourself. This is a German sedan in its natural habitat. And for the 4.4-litre twin-turbo 412kW/680Nm V8 M5, it all seems just a walk in the park.
Also check out:
– 2012 BMW M5 sets Nurburgring sedan record of 7:55
– Video: 2012 BMW M5 Green Hell Nurburgring Fly & Drive experience
– Video: 2012 BMW M5 Nurburgring lap
– Video: 2012 BMW M5 Ascari track drive and promo footage