BMW has been spotted test driving a prototype version of its all-new convertible sports car, dubbed the Z5. This will be the replacement to the Z4 which has been on the market since 2002.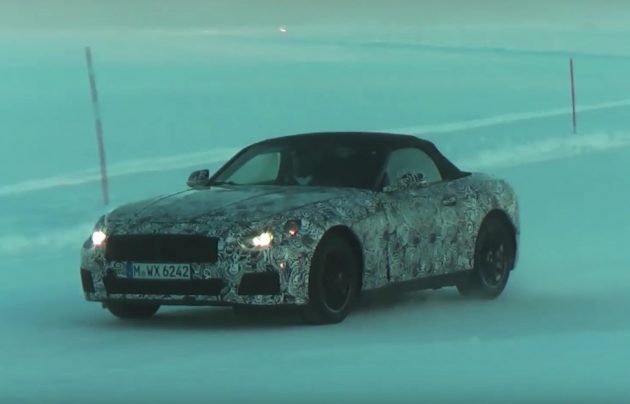 It's set to be BMW's first model co-developed with Toyota under the partnership agreement that was signed in 2012. Toyota will introduce a version of its own using the same platform, albeit with a completely unique body, coming in as a spiritual successor to the Supra.
As the name suggests, the new model will be slightly larger than the current Z4, featuring a longer overall layout with a grand touring personality as opposed to sheer sports car like the Z4.
The prototype seen here undergoing extreme winter testing shows a traditional long-bonnet and drawn-back cabin, with relatively long front and rear overhangs. You can also just see BMW's latest front end treatment with pronounced grilles and peeled back headlights.
According to reports BMW will offer a few different variants, including a softtop and hardtop. All are set to be rear-wheel drive, with a range of 2.0-litre turbo engines expected, along with a range-topping 3.0-litre turbo inline six.
For the Toyota version there might be a hybrid setup on the way, pairing one of BMW's turbo engines with Toyota's electric motor/hybrid expertise. Toyota may also go for an all-wheel drive setup.
This will be a very exciting project for both BMW and Toyota, with both companies in need of a fresh new grand touring sports car. Market entry is set to take place some time in 2018 for the Beemer, with a concept potentially showing up next year. Click play below for a quick look.