Mazda Australia is boosting the standard equipment list for the CX-8 7-seat SUV, following its initial launch in July last year. The boosted valued comes thanks to tech upgrades and more advanced driving systems.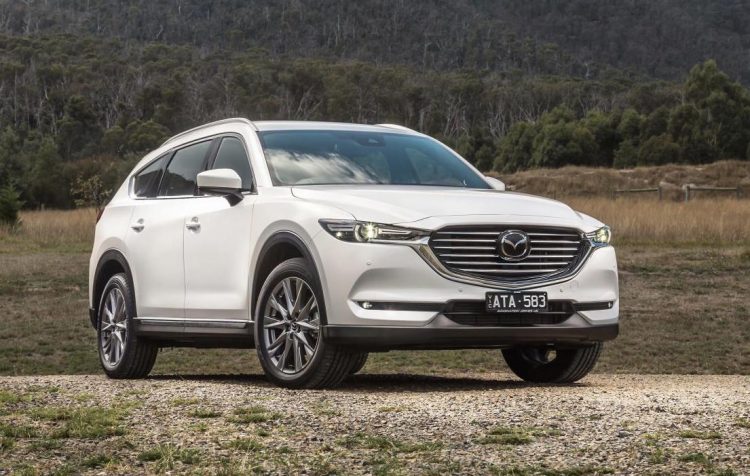 Two variants continue on sale in Australia, including the Sport and the top Asaki. Both now come standard with Mazda's latest Skyactiv-Dynamics 'G-Vectoring Control Plus'. This is an advanced version of the existing system which is designed to increase stability and handling through yaw control and torque vectoring.
Both models also now come with tyre pressure monitoring as standard, along with Apple CarPlay and Android Auto. Some revisions are made to the climate control module, with switches placed in horizontal lines for a cleaner, minimalistic look.
On the outside the 2019 CX-8 update showcases a new LED number plate light for a sharper look, while new colours have been brought in for the alloy wheels. The Sport variant uses 17-inch alloys which are now finished in Grey Metallic, while the Asaki uses 19-inch items in Brilliant Dark finish. Speaking about the update, Mazda Australia managing director Vinesh Bhindi said:
"Mazda CX-8 diesel appeals to customers needing flexible space and the latest in safety for their family, but who don't want to compromise on style or special features. The 2019 upgrade adds more practicality and panache to Mazda CX-8 Diesel, giving it a sharper edge in the large SUV category as a desirable addition to our customers' lives."
No changes are made to the powertrain, which means the CX-8 continues as a diesel-only model. Power comes from a 2.2-litre twin-turbo diesel four-cylinder that produces 140kW and 450Nm. In the Sport buyers can opt for either front- or all-wheel drive, while the Asaki is all-wheel drive only.
The new model is on sale now with prices starting from the following (excludes on-road costs).
2019 Mazda CX-8 Sport FWD 2.2TD: $43,410
2019 Mazda CX-8 Sport AWD 2.2TD: $47,410
2019 Mazda CX-8 Asaki AWD 2.2TD: $62,590
Note: 2018 model shown