Supercars and practicality don't often come hand-in-hand. However, the McLaren 570GT is designed to be as everyday-friendly as a supercar can be. It's still a mid-engined, supersonic machine underneath, but it has a spot you can put your shopping.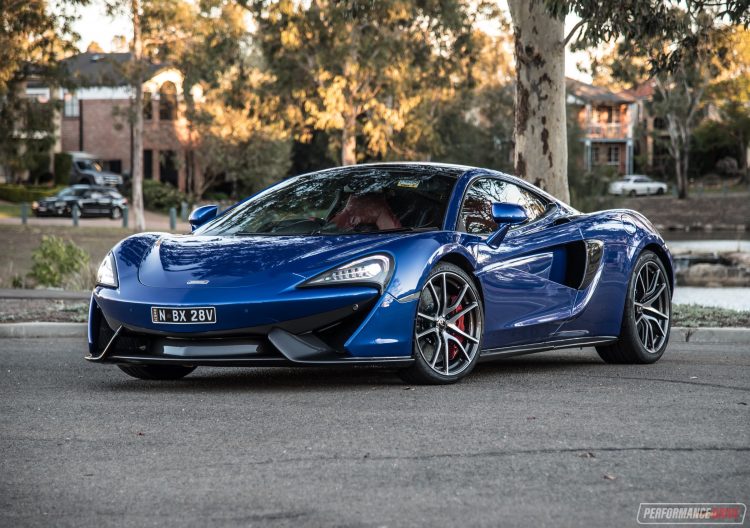 The 570GT sits in the entry level 'Sports Series' section of the range, above the 540C and along side the 570S. It uses the same M38T 3.8-litre twin-turbo V8 as the 570S, producing 419kW and a strong 600Nm. This is sent through a quick-shifting seven-speed dual-clutch transmission with rear-wheel drive.
Prices? As we said, this sits in the entry level end of the range, and the starting price of $406,800 is quite reasonable, for a new supercar in Australia anyway. Overseas the price is more attractive. For example, in the US it starts from around US$200,000.
2018 McLaren 570GT – THE SPECS
Engine: 3.8-litre turbo four-cylinder
Output: 419kW@7500rpm / 600Nm@5000-6500rpm
Transmission: Seven-speed dual-clutch auto
Drive type: Rear-wheel drive
Wheels: F: 19×8.0, 225/35  R: 20×10, 285/35
ANCAP: Not tested
Tare weight: 1460kg
Power-to-weight: 3.48:1 (kg:kW)
Official fuel economy: 10.7L/100km
Economy during test: 15L/100km
Fuel capacity/Type: 72L/98 RON
Power efficiency: 39.15kW:L/100km
0-60km/h: 1.90 seconds*
0-100km/h: 3.21 seconds*
60-110km/h: 1.72 seconds*
1/8 mile: 7.24 seconds at 173.6km/h*
1/4 mile: 10.93 seconds at 215.9km/h*
Max acceleration: 1.056g
100-0km/h braking: 2.70 seconds at 34.88 metres*
Max deceleration: -1.301g
Decibel at idle: 65*
Peak decibel at 60-100km/h: 91*
Priced from: $406,800
* Figures as tested by PerformanceDrive on the day. Factory claims may be different

2018 McLaren 570GT – THE PACKAGE
Why is the 570GT pitched as a practical option? It's mainly to do with the clever side-hinged glass boot area in the back. Unlike the 570S, the 570GT's rear windscreen doesn't just conceal the engine. Engineers have managed to sneak in a useable boot area which is large enough for an overnight bag, with 220L adding to the 150L already presented in the front boot (froot?). With these two combined you have about the same capacity as a small hatchback such as a Toyota Corolla (360L).
There are some storage options inside, but they are quite dinky. The centre console box is just large enough for an average mobile phone, and there's a shallow trough in the middle, and a single cup holder towards the front. In the door you might struggle to find the secret pocket which opens to a neat little cove, while on the face of the bulkhead in between the seats there's another cubby hole.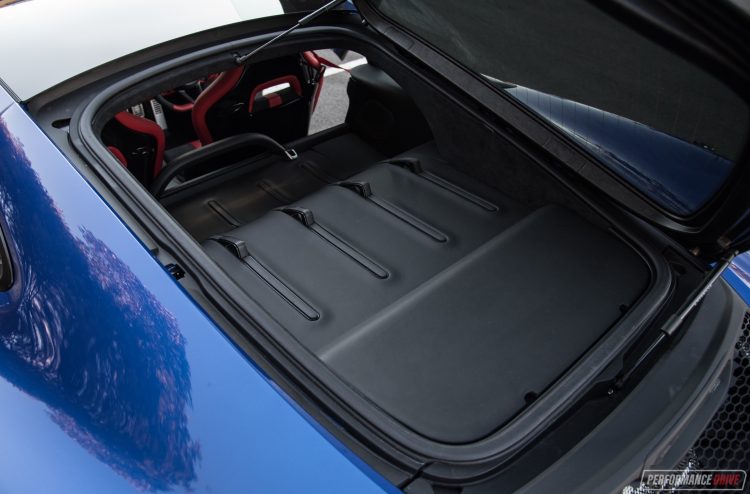 Spearing down from the dash is McLaren's IRIS touch-screen multi-media system. We're not a huge fan of it. The graphics are fairly basic and the menus don't provide full coverage; for some selections you need to go back to the main menu and start again, such as when changing media sources. This is all a minor inconvenience as you soon remember this is a supercar designed purely for exploring the laws of physics.
As standard the 570GT comes with an eight-speaker sound system, 19-inch front and 20-inch rear alloy wheels, dual-zone climate control, and a power-adjustable steering column. The sports seats are also power-adjustable, but you do need psychic powers to understand where the controls are. Instead of positioning the buttons on the outside of the seat, they are inconveniently tucked down in between the centre console and seat, so you have to feel your way around. And the buttons aren't in the conventional L-shape layout, just to rub it in.
Another inconvenient element in this otherwise practical beast is the menu stalk on the left of the steering column. This stalk allows you to browse through the trip computer displays within the digital instrument cluster, but it also controls the optional nose-raise function (more on that below). It can be quite complicated. There's a similar stalk on the left side for the cruise control, which we think is a bit more complicated than it needs to be as well.
Sitting inside though there is no mistaking this as anything but a supercar. The seating position is very low, with a tight footwell for the driver almost forcing you to left-foot brake. Visibility through the front is quite impressive as the windscreen drops down very low, and there is a view through the rear-view mirror. A rear-view camera is a $2700 option for further peace of mind.
2018 McLaren 570GT – THE DRIVE
It's amazing how civilised and approachable the 570GT is to drive. In the default driving modes, it's relatively quiet and isn't a pig to maneuver in tight spaces. Selecting gears is literally as easy as pressing a button, going from drive to reverse, and the main controls are light and manageable. So as a first impression, this could be used as a daily or at least a weekly vehicle without many complaints.
Fortunately for this test vehicle the optional electronic nose-raise suspension is fitted. This really helps when entering driveaways and getting over those pesky speed bumps in car parks. You can leave the nose raised for inner-city driving too, and it'll remain up at dense traffic speeds. Buyers do need to fork out an extra $5420 for this option, but for anyone considering using the 570GT anywhere other than the race track, it's a must in our opinion.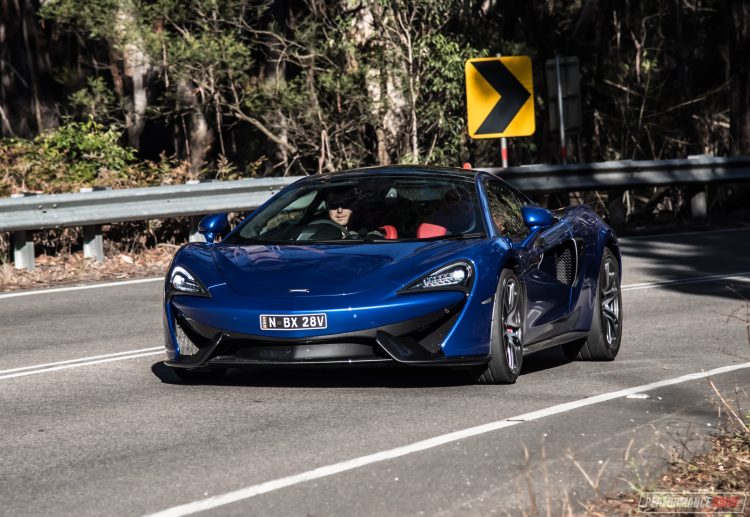 Sticking with urban driving, the ride quality on this 570GT is unbelievable. You sometimes forget you're in hardcore supercar. Actually, you never forget, with its hunkered down seat and low-slung view over the bonnet. But honestly the ride is absorbent and comfortable, even for a sports car. McLaren has made some changes to the Sports Series setup specifically for the 570GT, with the spring rate stiffness decreased by 15 per cent at the front and 10 per cent at the rear, and adaptive dampers at all four corners to smoothly catch bumps.
Drivers can select between Normal, Sport, and Track suspension settings. These three settings are also available for the powertrain. We love the simplicity of the selector system. There are two toggle dials (handling and powertrain), and then a main on/off 'Active' button. Basically, you can flick the suspension in Normal and the powertrain in Track, and then when you next get in the car these settings are still there, you just need to press the 'active' button. It might sound complicated but it's actually very useful and each mode really expands the versatility of the car.
Turn up the heat and drive this like it was intended and the 570GT is a pure weapon. The momentum it gathers is hilarious – almost scary – and it can very confidently carry this around corners. Imagine a go-kart; very close to the ground with telepathic steering and a very balanced power-to-grip ratio. That's what it's like to drive this up a spirited section of road. It's all very balanced, however, the speed is on another level completely. Memorable, is one way to describe the driving experience. You get out wondering how a car can handle this well and go this hard while remaining road legal.
There is some turbo-lag down low in the rev range, which means it doesn't provide the snappy and sharp throttle response of a Lamborghini Huracan, for example, but the relentless surge once you're on boost is incredible. And when you're really giving it some up through the gears it starts to sound like a superbike, revving hard and fast to its 8500rpm redline.
Across the usual sprints we managed to clock some ridiculously quick times. McLaren claims 0-100km/h comes up in 3.4 seconds. Using our Racelogic Vbox Sport we saw a best of 3.21 seconds. The quarter mile also came up in just 10.93 seconds, bettering McLaren's claim of 11.1 seconds. We must admit our testing was in fairly cold conditions (around 13ºC), but even so, these times firmly place it in proper supercar territory.
2018 McLaren 570GT – THE VIDEO
2018 McLaren 570GT – THE VERDICT
Yes, it is a practical supercar. It's not as practical as a sports car or hot hatch, but as far as supercars go, the McLaren 570GT is one of the most user-friendly models on the market. Does that mean it's soft? Definitely not. Through the gears and carving through corners, it continues to blow your mind just like any other McLaren.
If you're considering buying a genuine supercar but you're worried it might not be suitable for road conditions or might be too impractical for regular use, you need to check out the 570GT. The interior packaging and storage, and the suspension tweaks for improved ride quality make it a surprisingly forgiving and sensible road-going bullet.
PROS:
– Crowd-stopping design
– Feels agile and light
– Race-like driving position, perfect pedal placement for left-foot braking
– Can be surprisingly quiet in normal modes
– Some level of practicality with GT model; excellent ride quality
– Extremely fast; factory 10-second car

CONS:
– Basic 'IRIS' touch-screen
– Confusing menu stalk on steering column
– Exhaust sound compared with Lambo and Ferrari
As always, if you're thinking about buying a new car don't forget to click here to speak with our car buying specialists.