The 2012 Audi RS3 was only released onto the international market earlier this year, but German tuner B&B has already managed to extract 510PS (503hp/373kW) out of the standard 2.5-litre turbocharged five-cylinder engine. The Audi RS3 is considered to be the quickest hot hatch on the market, one can only imagine what this thing would go like.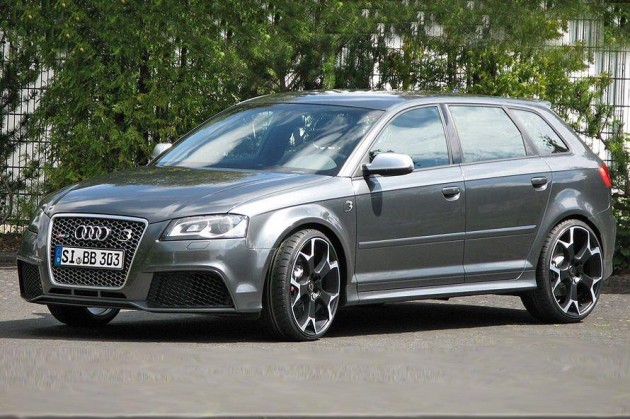 B&B is offering a range of different levels of tuning for the Audi RS3. The first of which takes power levels from the standard 250kW and 450Nm to 302kW and 560Nm. If that's not enough, B&B offers a stage two kit which pushes power figures to 313kW and 580Nm, and a further improvement on that up to 331kW and 600Nm.
If none of that tickles your fancy, B&B provides a top shelf kit which takes power to an extremely forceful 375kW and 680Nm. That amount of torque going through the small all-wheel drive chassis would present some serious acceleration. This final kit comes complete with a new larger turbo and a full high-flow exhaust system.
To keep the Audi RS3 on the straight and narrow, B&B also offers a lowered and adjustable suspension setup which can be swapped from Comfort and Sport modes while on the go, and bigger brakes can be added on for extra safety. Prices for the top shelf tune kick off at €15,950 (approximately AU$22,000).
B&B says the top kit will achieve 0-100km/h in around 3.5 seconds and take you on to a top speed of 310km/h. The term pocket rocket probably doesn't do it justice.