Kia has sent out a teaser image of the all-new Kia ProCeed in the lead up to its reveal in September, before it makes its public debt at the Paris motor show in October.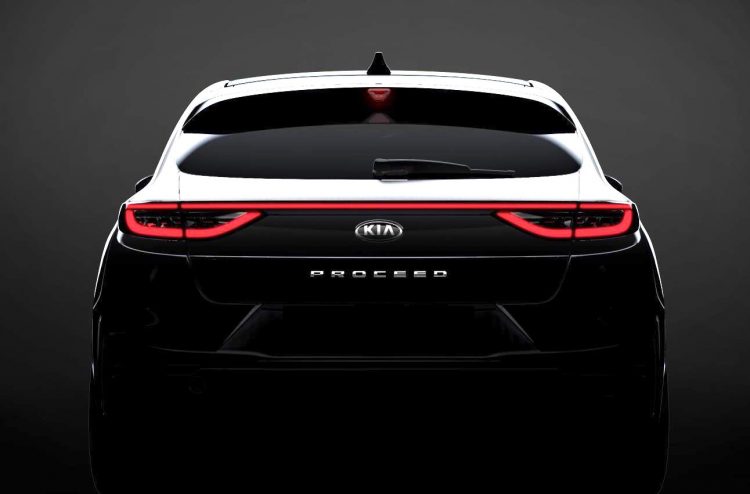 The teaser image shows a digital sketch of the rear end of the new model. It confirms it will showcase the latest trend in taillight design, with a full-width treatment connecting both of the main lenses via a thin bar.
It looks like it'll be another sporty hatch too, with nicely bolstered hips leading down to a wide stance, with a roof spoiler for that aerodynamic flourish. You can also see evidence of a large ProCeed badge mounted just below a large Kia badge in the middle of the hatch lid.
Finer details on the new model are being withheld at this stage. However, Kia says the model will offer a "stunning design" with the space and versatility of a tourer, in a five-door shooting brake-style body. The company also says the new model has been designed, developed and engineered exclusively for Europe.
The new ProCeed's design is expected to be inspired by the ProCeed concept car that was unveiled last year. And from the back view alone, it does seem to show some similarities. At the front, the concept featured the latest interpretation of Kia's 'tiger nose' grille layout, with peeled-back headlights and a sporty lower front bumper bar.
Inside is where all the action is. Well, in the concept version anyway (below). Kia presented a fantastically sporty yet modern decor, with a floating centre console, body-colour gloss dash, and a cool digital instrument cluster that expanded across to the main media interface for the dash. Most this isn't likely to make it to production but the general outline might be carried through.
All will be revealed on September 13. Kia Australia did offer the ProCeed locally but it was only available for a couple of years (2013-2015), back when it was complicatedly called the pro_cee'd. This new model won't be entering the local lineup any time soon.