Jaguar has freshened up its luxury XF sedan lineup for MY2019 with the addition of the 30t 300 Sport. The current generation XF has been out for a number of years now. And although it only accumulates about 250 sales per year in Australia, the XF is still an iconic model for the British brand.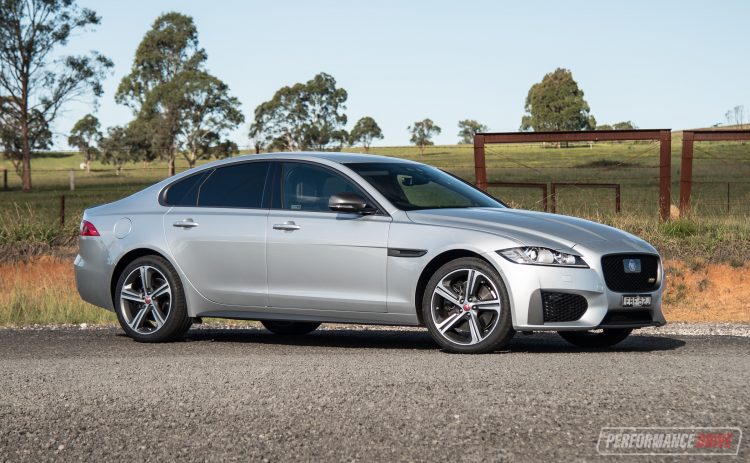 The range now begins with the Prestige, then moves up to the R-Sport, the 30t 300 Sport we're testing here, and at the top is the V6 S. Jaguar Australia spoils us for choice with no less than six engines available depending on which variant your budget allows. For the 300 Sport is a four-pot 2.0-litre turbocharged petrol engine that produces a generous 221kW and 400Nm.
If you are interested in a wagon, the Sportbrake is available in the R-Sport and S variants. Prices begin at $79,800 for the Prestige, and climb to $128,528 for the range-topping 35t S. The 30t 300 Sport starts from $99,800 (all excluding on-road costs).
2019 Jaguar XF 300 Sport – THE SPECS
Engine: 2.0-litre turbo four-cylinder
Output: 221kW@5500rpm / 400Nm@1500-4500rpm
Transmission: Eight-speed auto
Drive type: Rear-wheel drive
Wheels: F & R: 19×8.0, 245/40
ANCAP: Five stars
Tare weight: 1600kg
Power-to-weight: 7.23:1 (kg:kW)
Official fuel economy: 6.8L/100km
Economy during test: 8.6L/100km
Fuel capacity/Type: 74L/95 RON
Power efficiency: 32.5kW:L/100km
0-60km/h: 3.19 seconds*
0-100km/h: 6.33 seconds*
60-110km/h: 4.59 seconds*
1/8 mile: 9.61 seconds at 126.2km/h*
1/4 mile: 14.72 seconds at 157.1km/h*
Max acceleration: 0.722g
100-0km/h braking: 2.92 seconds at 37.10 metres*
Max deceleration: -1.370g
Decibel at idle: 48*
Peak decibel at 60-100km/h: 85*
Priced from: $99,800
* Figures as tested by PerformanceDrive on the day. Factory claims may be different

2019 Jaguar XF 300 Sport – THE PACKAGE
Jaguar wouldn't want to refresh the XF's design too quickly because it still looks fantastic. That smooth and aggressive front end still takes the lead among the competition in our view. At the rear, the wide taillights and swooping roofline looks similar to that of the smaller XE model, which also looks superb. The 300 Sport adds "dark satin grey" side mirrors, body trimmings, and a beautifully thin spoiler for the boot. A set of 19-inch alloy wheels also hide '300 Sport' brakes.
On the inside, the cabin continues to pose an elegant design. The layout is clean and easy to navigate through. You certainly feel the premium touch with small things like the air vents that electronically tuck away into the dash when not in use, and the gear selector knob that rises from the console like a rock star rises from the stage at the beginning of a concert. It's an eventful and majestic environment.
However, design and elegance trumps practicality. There are no cup or bottle holders in the doors, and there seems to be a general lack of spaces and holes to dump your belongings into. But passenger space in the XF is praiseworthy. Although you sit quite low with your knees up higher than you might be used to, there is an abundance of space between you and the dash. The same goes for the rear passengers, except for the centre seat position which has the large drivetrain tunnel protrusion. Getting in and out also requires some proper crouching down to get under that low-slung roof.
The boot in the XF is huge. A small opening might restrict some larger items from fitting in, but the space is very deep. It officially measures in at 540 litres, and features a space-saver spare wheel under the floor.
In the way of equipment, the 300 Sport comes standard with autonomous emergency braking with forward collision warning, lane departure warning, power adjustable steering column and front seats, a superb 11-speaker sound system with subwoofer, wireless hotspot, dual-zone climate control with remote start, selectable driving modes, automated steer parking, suede look headlining, sports suspension, and tyre pressure monitoring.
Unfortunately, for a $100k car, you still have to pay extra for adaptive cruise control, blind-spot monitoring, reverse traffic detection, heated and cooled seats, and a 360-degree camera. Some of these features are offered in the base-model Toyota Corolla.
Jaguar, like many luxury car brands, hasn't yet extended its warranty length in Australia. It still offers coverage for 3 years or 100,000km, whichever comes first. But servicing can be capped if you pre-pay. Jaguar offers a $1350 service plan for the 2.0-litre petrol engine for the term of six years or 96,000km.

2019 Jaguar XF 300 Sport – THE DRIVE
This section would be the reason customers go with Jag – it's where the UK-built luxury saloon defines itself. A 2.0-litre might seem underwhelming on paper for large luxury sedan. But it's definitely not the case in the real world.
It has the power of a 6, the acceleration of a 6, the torque of a six, and almost the sound of a six. Unleashing the Dynamic mode excites your senses. It sprints from 0-100km/h in only 5.9 seconds according to Jaguar, although our testing returned a best of 6.33 seconds. The full 400Nm of torque energises progression from as low as 1500rpm, and holds until 4500rpm. This makes for a willing and versatile drive character. Unlike other cars, Dynamic mode allows you to have full control of gear shifts. In other words, it won't automatically upshift when you hit the limiter.
Pickup from stop is always smooth, confident and strong, with the active torque transfer system ensuring optimum traction from the rear wheels. It's easy to stay ahead in city traffic, and it is a superb cruiser on the freeway, too. Eight gear ratios help keep the engine revs low at higher speeds, and this thing coasts and coasts under very little throttle. The wind and road noise is also very minimal, perfectly fitting with the luxury sedan class.
The eight-speed auto is smooth and organised. When not in Dynamic mode, it is programmed with economy in mind. It jumps to higher ratios as quick as possible under soft levels of acceleration, which can be a little annoying at times. Start-stop technology is always annoying, but on start-up, the XF somehow sounds a bit like a real Jaguar in the wild, with a subtle snort telling you it is ready to launch.
In terms of driving dynamics, the XF 300 Sport comes standard with sports suspension. Body roll around corners is non-existent, and the long wheelbase provides ultra-high stability going around long sweeping corners. Around tighter stuff the XF is very agile and feels playful and fun, like it wants to be there. In fact, it weighs just 1600kg (tare), which is surprisingly low for this class.
A perfect amount of feedback is returned to the driver through the nicely-sized sports steering wheel as well, with a secure, freight-train-like feel out on the highway.
The British engineering holds up on harsh local roads well. It doesn't seem too firm on bumpy roads or poorly maintained country surfaces. Instead, it soaks it all up and remains compliant and comfortable. This is all really good news as Jaguar has traditionally been renowned for its supple ride qualities.
During our harsher testing, we achieved a fuel consumption average of 8.6L/100km. Its official rating of 6.8L/100km is commendable considering the power outputs, but we doubt you'll achieve that often. The fuel tank is quite large (74L), so although the fill might seem costly at the pump, you can expect to travel at least 900km between fuel stops. On that note, the theoretical average range is a diesel-like 1088km.
2019 Jaguar XF 300 Sport – THE VIDEO
2019 Jaguar XF 300 Sport – THE VERDICT
Our week has been made royal with the Jaguar XF 300 Sport. There's no mistaking the luxury British saloon on the outside, inside, or underneath the bonnet. It tantalises the senses in its external visual appeal, and in the way it plays on the road.
But it is a lot of money to pay for a car that misses out on some important features we'd expect to come as standard. For example, adaptive cruise control, blind-spot monitoring, and rear cross-traffic alert. But feature list aside, Jaguar vehicles always seem to be the more desirable choice in any given segment. And for us, the XF would be very high on our shortlist if we were shopping in this class.
PROS:
– Unmistakable Jaguar sedan design that shouts elegance and power
– Great performance from 2.0T
– Solid road holding and agile feel (1600kg tare weight is excellent)
– Cool interior touches; electronic-rotating air vents, rising gear knob
– Subtle sporty enhancements for 300 Sport
CONS:
– Some optional features should come standard, for the price
– Could do with cabin redesign to meet JLR's latest standards
As always, if you're thinking about buying a new car don't forget to click here to speak with our car buying specialists.