A uniquely-disguised 2018-2019 Ford Focus has been photographed out in the wild, showing the best look yet at the new model's body design and general shape.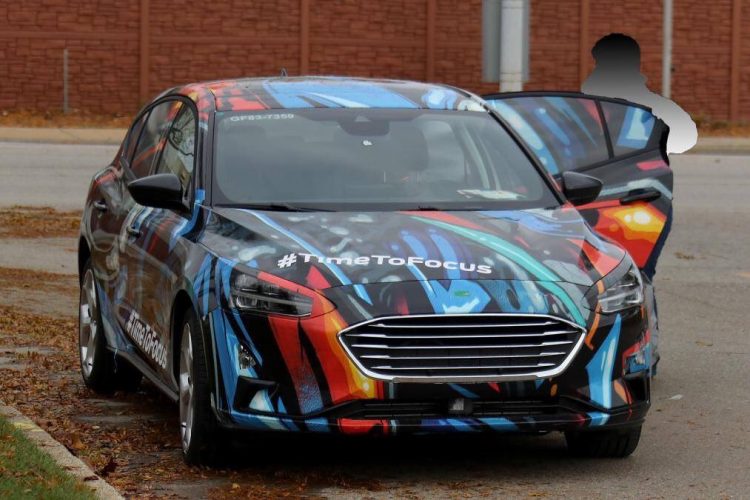 Images appeared on Twitter with the hashtag #TimeToFocus, helped along by the prototype which features the hashtag painted on the car. The car appears to have been strategically planted outside a Ford factory so keen-eyed passersby could see it. At the front we get a clear view of the new-look open-mouthed grille with horizontal tiers, and get a glimpse of the suave new LED headlights with a strikethrough beam in the middle.
A wagon model was spotted on the Nurburgring a couple of weeks ago, showing off hints of an ST model. It also featured these new-look headlights, although using a black mesh grille in place of this fancier chrome grille.
At the back it looks like Ford will reduce the size of the taillights. However, upon closer inspection the camouflaging does show a faint outline of the taillight wrapping right around to the side of the car, almost reaching to the rear door like the current model's design.
The C-pillar doesn't look as raked as the current model either, which could open up more headroom for the rear passengers. There also appears to be a larger rear quarter window that's integrated into the door, with a removed D-pillar for increased visibility, as opposed to the small window wedged in between a C- and D-pillar on the current model.
Given that this prototype looks to be wearing a full production-ready body, an official unveiling will probably take place in the coming months. Perhaps at the Detroit auto show in January.