Sitting at perhaps the most extravagant and elegant end of the M6 lineup, the new BMW M6 Gran Coupe is now on sale in Australia. Based on the M6 Coupe, the new variant is the most powerful in its class.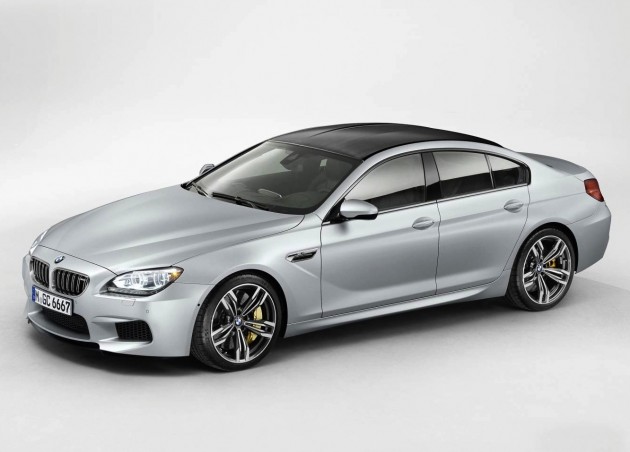 Going up against the likes of the Audi S7 (309kW) and the Mercedes-Benz CLS 63 AMG (386kW), the M6 Gran Coupe features a 4.4-litre twin-turbo V8 producing a massive 412kW of power and 680Nm of torque. This makes it the most powerful four-door coupe on the market.
As such, 0-100km/h can be handled in just 4.2 seconds. The powerful engine also offers an average fuel economy rating of just 9.9L/100km, which is not bad for a 412kW V8.
Like the M6 Coupe and Convertible, and indeed the BMW M5 sedan, the Gran Coupe is filled with BMW M Division performance technology. There's adaptive sports suspension, large multi-piston brakes, an Active M differential, an M-tuned chassis with reinforcements for increased rigidity, and an M dual-clutch seven-speed transmission.
Inside, the M6 features power sports bucket seats that are adjustable in a multitude of ways including via adjustable side bolsters, an Alcantara roof liner, a sports M steering wheel, and of course all of the luxuries you'd expect in a top-line 6 Series.
Other unique highlights include a neat aerodynamics package to the exterior, a carbon fibre rear diffuser, a carbon fibre roof, 20-inch alloy wheels, and the traditional M quad-outlet exhausts.
Phil Horton, BMW Group Australia managing director, said the M6 Gran Coupe adds extra appeal and versatility to the M6 range.
"The M6 Gran Coupé combines ground breaking acceleration and dynamics with the real- world usability of a four-door vehicle, creating a truly versatile yet inspiring and elegant supercar."
Full prices are as follows (excluding on-road costs):
BMW M6 Coupe – $292,500
BMW M6 Gran Coupe – $299,500
BMW M6 Convertible – $308,500