Mazda has revealed its all-electric SUV that it promised, called the MX-30. It was revealed to the world for the first time at the opening of the 2019 Tokyo Motor Show, just getting underway today.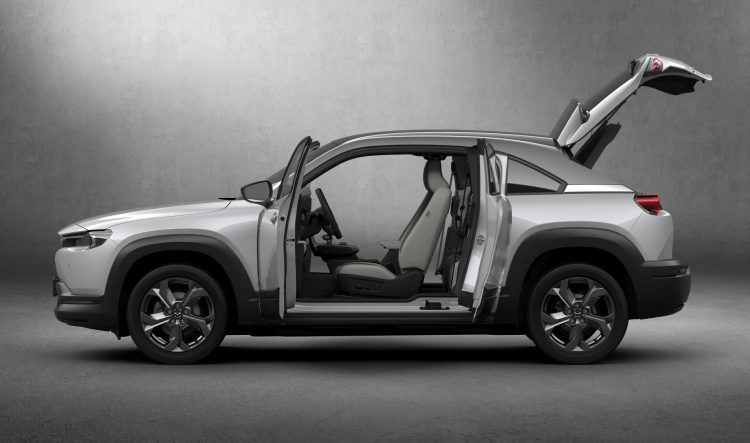 This is Mazda's first fully electric vehicle, and it debuts a freshly evolved design language known as 'Human Modern'. Mazda describes the design as providing that human feel, yet inside it is very practical and airy, incorporating environmentally-conscious materials and the latest tech. It's so open and airy in fact, it has 'suicide doors' whereby both the front and rear doors per side open like barn doors.
We can probably take this is Mazda's answer to vehicles such as the Hyundai Kona Electric and Volvo XC40 Recharge, in terms of its size and powertrain traits. It measures 4395mm in length, 1795mm in width, and stands 1570mm tall. It also rides on a 2655mm wheelbase, and features 18-inch alloy wheels wearing 215/55 tyres.
As for the power source, MX-30 runs with a 35.5kWh lithium-ion battery with a total system voltage of 355V. Further details haven't been mentioned but it's understood the power is sent to an electric motor at the front axle, developing around 106kW. It can then be recharged using a Combo DC charger or an AC system with a maximum input of 6.6kW. The range is apparently around 210km, although, Mazda hasn't specifically outlined such specs.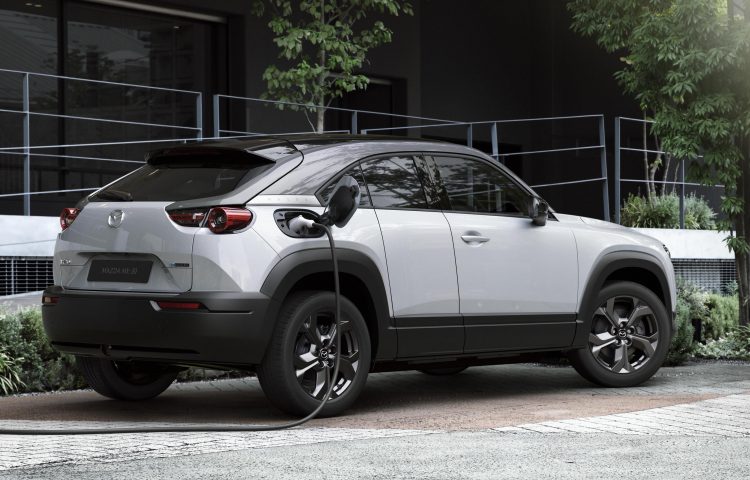 Passengers are treated to all of the usual modern conveniences, such as a digital multimedia screen for the upper dash, and another 7.0-inch digital screen for the climate control on the centre fascia. You'll notice lots of storage around the console, with a 'floating' gear selector opening up extra space below thanks to no transmission tunnel.
Interior designers really have been pushing for the whole modern thing, as there are a pair of 2.5A USB ports as well as a 12V socket in the front, and a 150kW AC outlet for charging larger devices such as laptops, drones and even e-scooters. Speaking about the MX-30, Akira Marumoto, Mazda's representative director, president and CEO at the show, said:
"In any era, Mazda wants people to experience exuberant moments in life through cars. We will continue striving to deliver creative products and technologies so our customers will love and hold onto their Mazda for a long time."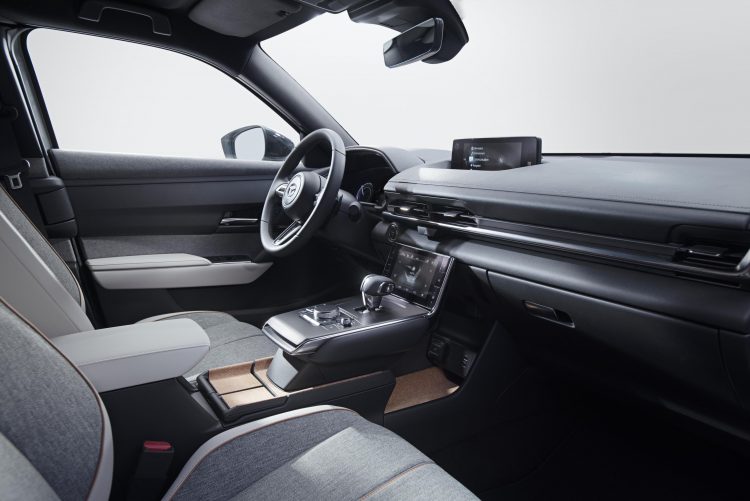 The great thing about this is it is not a concept; the Mazda MX-30 will hit the market in the near future. In fact, it is just one of many electrified models in the pipeline from the brand. Over the next 10 years Mazda will be rolling out more and more electric models and options to the market. Marumoto said:
"In terms of electrification, by 2030, every car we make will feature our e–Skyactiv electric-drive technology as we work to reduce CO2 emissions on a life-cycle assessment basis. We will push forward with our strategy of offering multiple solutions in light of each country or region's energy situation, power generation mix and the diversification of customer preferences."