Australia produced some classic home-grown muscle cars during the late Sixties and early Seventies, which brought American-style two-door coupes to local showrooms.
Volume-selling four-door sedans were massaged as designers mimicked the best of styling trends at the time to create unique-to-Australia performance coupes, giving Aussies high-performance motoring with reliability, cheap parts and service, and rugged family-sized motoring.
While initially a boom, a number of factors began to negatively impact the Australian muscle car scene. From 1976 Ford, Holden and Chrysler started developing ways to get rid of unwanted two-door coupe bodies before next generation cars arrived.
Holden Monaro LE (HX series, 1976)
The Holden Monaro was the original Aussie two-door muscle car, debuting in 1968 with the top-spec Monaro GTS 327, winning Bathurst that year. Within a couple of years, Holden changed tactics against the Ford Falcon GT HO and raced its smaller Torana GTR XU-1 instead. As a result, the second-generation HQ Monaro GTS was more of a grand tourer rather than a race car.
When the HX series Holden range arrived in mid-1976, the only way to get a Monaro was to buy the four-door Monaro GTS sedan. This clever move forced buyers to move quickly to get the last of the coupes when the Limited Edition debuted in September.
Not only did the LE offload the last of the coupe body shells, it also helped reduce the amount of leftover luxury equipment from the Statesman and Caprice, which were facing stiff competition from the Ford Fairlane and LTD.
Easily identifiable by its unique crimson paint and gold pinstripe exterior styling, the LE featured Premier headlights, a blacked-out grille, imported gold Polycast honeycomb wheels, a front air dam and a rear spoiler.
It was much like a Caprice in a coupe body, and came with air-conditioning, power radio antenna and windows, brushed knot cloth trim, reclining front bucket seats, full dash instrumentation, cut pile carpet, sports steering wheel, tinted windows and woodgrain trim. There was even a Quadrophonic eight-track tape player (as well as a push-button radio).
Mechanically, the LE came with the Holden-made 161kW (216 hp) 5.0-litre 308 V8 engine mated to a three-speed automatic transmission. A dual exhaust system, limited slip differential, sports suspension and variable-ratio power steering were also fitted.
These days, the Holden LE changes hands for around $44,400 to $55,500.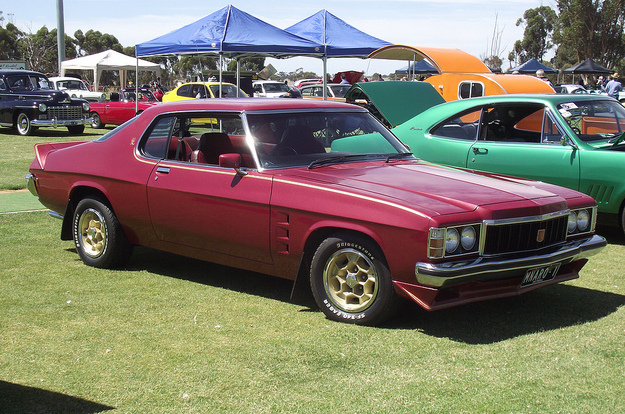 Image source: gtplanet
Ford Falcon Cobra (XC series, 1978)
The Falcon hardtop coupe was a big success when it arrived soon after the initial all-new XA series Falcon range in 1972. Blue Oval fans finally had their own proper two-door fastback coupe to cruise around in. The XA was short-lived but the XB replacement sold strong and is well-known as the basis for Mad Max's famous all-black V8 Interceptor.
Ford kept its coupe in production into early 1978 by which time you could have it only in Falcon GS and Fairmont trims. So when it came time to get rid of the 400 leftover bodies, the Falcon Cobra was invented.
Sporting dramatic blue racing stripes over a white body like Shelby Mustangs of the past, the Falcon Cobra served to both offload the Falcon coupes and also homologate a model for racing. A build schedule saw groups of 302 ci (4.9 litre) and 351 ci (5.8 litre) V8-powered models with various combinations of power steering, air-conditioning and power windows, as well as manual and automatic transmissions.
Build numbers 2 to 31 were 'Bathurst' specials designed for racing and came complete with heavy-duty components for the track. This included items such as extra reinforcement, a fibreglass front spoiler, bonnet air scoop, transmission oil cooler, electric fans, heavy-duty radiator, larger rear wheel housing and a long range fuel tank.
The V8 engines were left standard as they came out of the factory as a 151 kW (202 hp) 302 or a 162 kW (217 hp) 351, and are quite collectable today.
Today, the Falcon Cobra is known to changes hands for around $59,200 to $119,500.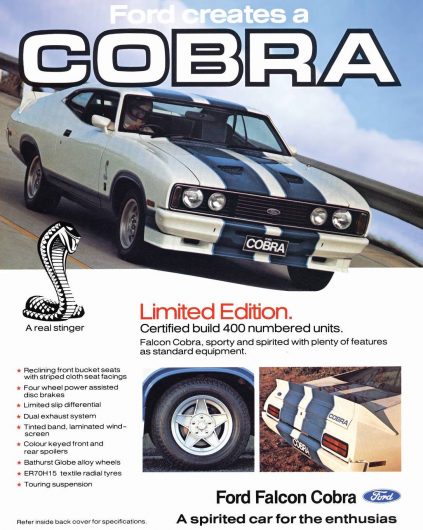 Chrysler Charger Drifter (CL series, 1978)
Chrysler launched its short wheelbase Valiant Charger coupe soon after the initial VH series in 1971 and it was very popular, selling in large numbers and winning the 1971 Wheels Car of the Year Award. The Charger was sold in various forms including the six-cylinder R/T with Option E49, which was faster than the mighty V8-powered Falcon GT HO Phase III at the time.
In 1977 the manufacturer finally caught up with its rivals by introducing a Valiant panel van and on offer was the Drifter sports package which included bold body graphics and other items.
The following year Chrysler entered the coupe run-out sale when it was faced with the leftover Charger coupe bodies as production ended in August that year. The Charger Drifter was invented for this purpose.
The most notable aspect of the Drifter package is its wild body graphics, streaming down the side of the Charger from the tail to the nose, and across the rear. It had limited paint colours including Impact Orange, Sundance Yellow, Spinnaker White and Harvest Gold, and white models included extra-special strobe stripes across the boot lid.
Mechanically, these cars came with standard engines in either 109kW (146 hp) Hemi 265 six-cylinder or 110kW (148 hp) 318 V8 forms, both mated to a four-speed manual transmission.
The Charger Drifter is not as collectable as the run-out coupes from Ford and Holden but it is an interesting footnote with the Australian Chrysler enthusiasts circle.
These days, the Chrysler Charger Drifter changes hands for around $20,000 to $30,000.