When the last-generation Porsche 911 GT3 was revealed – supposedly the purest expression of the breed – with a PDK automatic transmission only, it drew criticism from some quarters and further fears that the manual transmission at large might be departing the automotive landscape sooner than thought.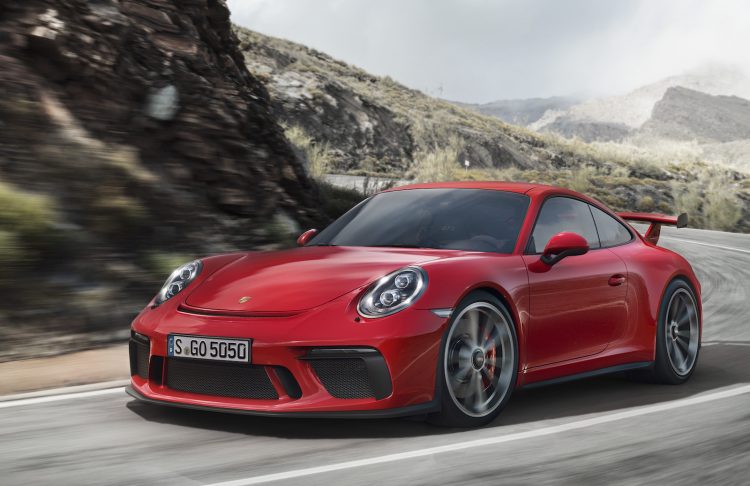 It also drove up demand and prices for the manual-only Cayman GT4 and 911R. Never fear, as the 991.5-based 911 GT3 seeks to remedy those wrongs with the availability of a six-speed manual gearbox
Its new 4.0-litre naturally aspirated flat-six engine churns out 368kW, and the carmaker says it is virtually unchanged from the 911 GT3 Cup racing car. Weight is contained to 1430kg so performance is expectedly phenomenal. 0-100km/h is attained in 3.4 seconds for the PDK-optioned version, on its way to a 318km/h top speed.
Opting for the manual sacrifices 0.5 seconds off that time, to 3.9 seconds but longer legs mean a 320km/h top speed.
The new 911 GT3 sits 25mm lower than a Carrera S and features active rear-steering to sharpen cornering. A further optimised bodykit ensures downforce and aerodynamics are painstakingly fit for purpose and air is masterfully manipulated around the car's bodywork.
Inside, a 918 Spyder derived 360mm steering wheel is used, while the seats come standard with mechanical adjustment, 18-way electrical adjustment is optional with the Sports seats Plus package. For hardcore customers, a full carbon-fibre bucket is also available.
The 911 GT3 will hit Australian shores in the fourth quarter of this year, priced from AU$327,100. Long live natural aspiration and long live manual transmission, we say. Oh, and if you're wondering, fuel consumption is 12.9L/100km with 290g/km of CO2.