The new Subaru WRX concept has certainly attracted a huge amount of attention, giving us a glimpse into the styling theme that will be used on the next-gen rally icon. The Japanese company has just released a video outlining some of the concept's details.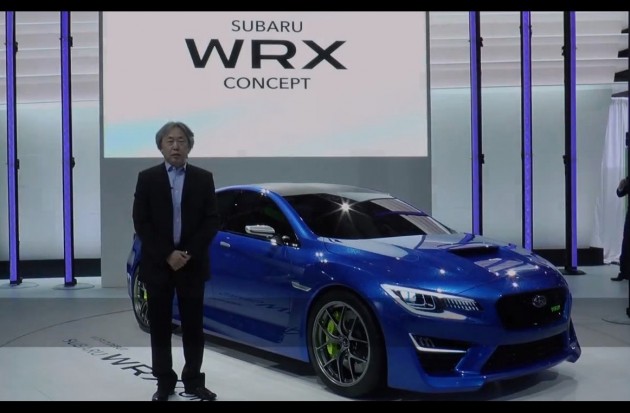 In the video, Osamu Namba, Subaru's general manager of design, gives us a rundown on the styling theme that Subaru took on when creating the WRX concept.
The aggressive front end incorporates new 'hawk-eye' headlights as well as Subaru's traditional hexagonal grille layout. Namba says these features were placed lower down to reinforce the sedan's power.
At the back, there's a similar attitude. Namba describes the sharp edge of the boot lid as being associated with pure speed, while the wide profile of the taillights exude the concept's sturdy low centre of gravity. Of course, the quad-outlet exhausts and the chunky diffuser finish off the sporty character.
As expected, the new WRX will feature a turbocharged engine. Namba says the central grille intake and the bonnet scoop are "vital in represting a sure-fire turbo performance".
Although the concept won't go into production as it is, it will inspire the upcoming production car. Subaru designers are likely to borrow plenty of the major design cues, including the overall profile and silhouette.
Click play below for the full walk-through.