Infiniti has revealed the 2018 QX80 update at the Dubai motor show, giving it a new look that goes some length to ridding the outgoing 'rhinoceros face' design.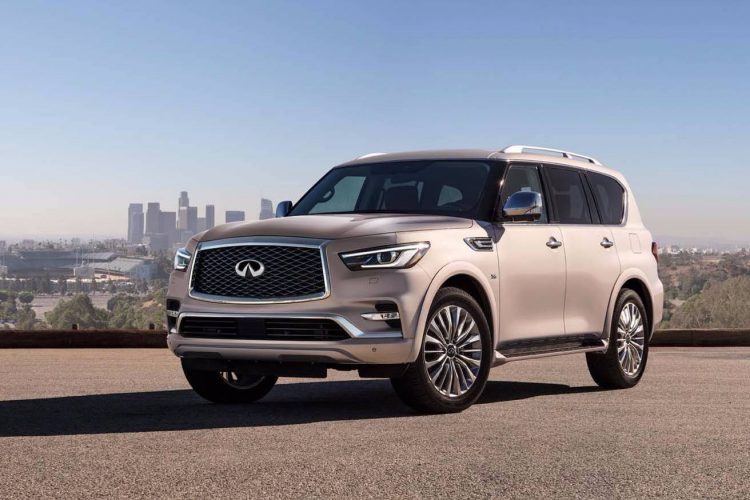 Following the facelift for the Nissan Patrol Y62, which the QX80 is based on, the massive new Infiniti comes with some more advanced technologies, finer attention to detail, and a step up in quality materials and luxury.
Starting with that design. No longer does is look like an awkward monster. It's now more refined, albeit still a bit of a monster. There's some new-look headlights placed higher and more inline with the bonnet's edge, with integrated LED daytime running lights, along with a giant new grille that helps get rid of that old rhino nose setup on the outgoing model.
The front bumper bar features an elegantly wide and thin opening supported by some neat fog light clusters, while the rear end is freshened up with bumper bar and taillight revisions. Most of the main torso including the pillars and doors appear to carry over the same as before.
Inside it's a similarly subtle update, with some new stitching patterns for the leather upholstery giving it a noticeable step up in luxury, but unfortunately the same button-filled dash fascia resides with a rather small touch-screen interface up top.
Infiniti says it has boosted comfort via retuned suspension, and improved the driving dynamics. Power continues to come from one of the nicest naturally aspirated V8s ever fitted to a production SUV, in our opinion. It's the 5.6-litre V8 that churns out a majestic 298kW and 560Nm, sent through a seven-speed automatic transmission.
Production of the new model is now underway at Infiniti's Kyushu facility in Japan, with market entry scheduled to take place at the end of this year. Aussie details including the finer specs are yet to be announced. Speaking about the new model, Christian Meunier, Infiniti global division vice president, said:
"The new model will further enhance our profile in an area of the market that prizes modern exterior design, high-tech cabins engineered for relaxation, and effortless, empowering performance. The fact that we held the global reveal in Dubai reinforces the strategic importance of the Middle East for Infiniti."