It was not too long ago that there was a stigma of inferiority associated with any vehicle built in Asia. Through time, it was the Japanese brands like Toyota and Honda that were first to prove they would withstand Australia's harsh conditions. More recently, it is through vehicles like Hyundai's 2018 i30 that is proving that South Korea also has what it takes to break through that all-important brand perception.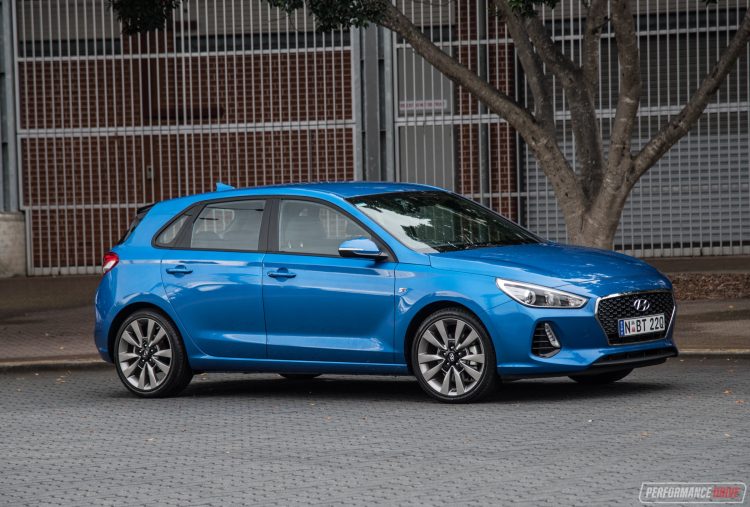 When we picked up the "re-invented" Hyundai i30, we were not expecting it to be in our consideration for the best small car on the market. If sales are anything to go by, it may be just so. In 2016, the previous generation i30 was the most popular small car with 21 per cent market share, beating the popular Toyota Corolla and Mazda3. Now hitting the market with a fresh new model, can it continue to hold the crown?
2018 Hyundai i30 SR – THE SPECS
Engine: 1.6-litre turbo four-cylinder
Output: 150kW@6000rpm / 265Nm@1500-4500rpm
Transmission: Six-speed manual
Drive type: Front-wheel drive
Wheels: F & R: 18×7.5, 225/40
ANCAP: Five stars (scored 35.01 out of 37)
Tare weight: 1406kg
Power-to-weight: 9.37:1 (kg:kW)
Official fuel economy: 7.5L/100km
Economy during test: 8.5L/100km
Fuel capacity/Type: 50L/91 RON
Power efficiency: 20kW:L/100km
0-60km/h: 3.65 seconds*
0-100km/h: 7.43 seconds*
60-110km/h: 4.81 seconds*
1/8 mile: 10.11 seconds at 121.8km/h*
1/4 mile: 15.44 seconds at 150.4km/h*
100-0km/h braking: 2.92 seconds at 37.04 metres*
Decibel at idle: 37*
Peak decibel at 60-100km/h: 77*
Priced from: $25,950
* Figures as tested by PerformanceDrive on the day. Factory claims may be different

2018 Hyundai i30 SR – THE PACKAGE
Still being the underdog because of its origin, Hyundai needs to offer a package that not only keeps up with the competition, but also outdoes it – and it does in many ways. The lineup consists of five variants; the Active, Elite, Premium, SR, and the range-topping SR Premium. Usually, the base model of any vehicle in this market misses some useful features. However, not here.
The Active comes equipped with 16-inch alloy wheels with a full-sized spare, seven airbags, an 8.0-inch touch-screen with Apple CarPlay and Android Auto, digital DAB+ radio, rear parking sensors, reverse camera, sat-nav, tyre pressure sensors, daytime LED lights, auto headlights, and power folding and heated side mirrors. And with a frugal price tag of $20,950, the i30 sure does outdo. Here, we are testing the mid-spec i30 SR, fitted with a six-speed manual transmission. Prices start at just $25,950.
In addition to the Active's lengthy feature list, the SR receives rain sensing wipers, push-button start, auto emergency braking (auto only), blind-spot sensors, driver alert, forward collision warning, lane keeping assistance, leather-accented interior, dual-zone climate control, funky red interior details, LED courtesy lights in the door handles, and a more advanced multilink rear suspension. As you can see, you gain huge bang for an extra $5k. Some of the i30's competitors would see the price rise to the low thirties for the same equipment list.
There are some new, nifty ideas brought to life in the new i30 as well. We love the wireless charging pad fitted standard to all models above the Active. If you have a compatible phone, you can throw it down in the centre console and it will charge with no tangling cables.
Engines on offer are a 2.0-litre naturally aspirated petrol, a 1.6-litre turbo-diesel (test here), and a 1.6-litre turbo-petrol (as tested). The six-speed manual can be matched to all variants, while the naturally aspirated models are available with an optional six-speed auto with the turbo petrol and diesel using a seven-speed dual-clutch auto
Moving to the exterior, the new i30 exhibits a sharper and sportier design than the outgoing model. With smaller, acute headlights, the front end appears slimmer and more athletic. We will forgive you for mistaking the i30 for a hot European-made car. Yet, the design still allows for good use of space on the inside.
As with our test vehicle, the SR and SR Premium models are fitted with 18-inch alloys. Unfortunately, even though you would be paying more money for these higher spec models, you receive a space-saver spare wheel and models below are equipped with a full-sized spare.
On the inside, we're impressed by the level of elegance conveyed throughout. Especially around the design of the instrument cluster. There are some areas splashed with hard plastics, but for the price, the competition really has some defending to do here. The layout of the air conditioning buttons are not as simplified as can be, but nothing some extra learning time cannot fix.
Opening the door to the interior, we also notice the handles sound and feel a tad inferior. A cheap tin metal sound can be heard as you max out the pulling motion on the handle. This is only a minor refinement issue noticeable to the fussiest of drivers.
The infotainment system uses an 8.0-inch touch-screen, which is used in all models. Menus take a little more time than cars like the Toyota Corolla to learn and navigate through. For example, to select a specific radio station it requires two button presses in order to bring you back to the correct menu. But, you can always skip through the channels through the steering wheel button.
No complaints from the six-speaker sound system. It is ample and produces plenty of bass. Audio upgrades are not rewarded in higher models, not that they are really needed.
We find the front and rear seats quite comfortable and more on the softer side, with some adequate bolstering in the front. The driver's seat can be adjusted in ten different ways electronically, so you are bound to find the right driving position. Again surprisingly, leather trim is appointed in the top four models. You do not see many cars on the market with leather trim under $25k.
Rear legroom is a tad on the tight side, even for this vehicle market. This is worth considering if you plan to fill the back seats regularly because there are other cars with more space here. But the trade-off is in the space offered in the boot. At 395 litres with rear seats in place, the i30's boot is bigger than the Toyota Corolla hatch's boot (280 litres) and the Mazda3's boot (308 litres). Of course, the rear seats can be folded down 60:40 to increase the space, to an ample 1301 litres.
Servicing is required every 10,000km or 12 months, which is more regular than some; and 5000km less than the base engine models. From an ownership perspective, this would escalate your running costs.
Hyundai's fantastic warranty is one of the longest on the market: five years and unlimited kilometres. And ANCAP has awarded the new i30 with five stars for all variants.

2018 Hyundai i30 SR – THE DRIVE
As mentioned, one of the many great specialities with the new Hyundai i30 is the bang for your buck. The SR and SR Premium, with their 1.6 turbo, produce 150kW and 265Nm, which makes the i30 one of the most powerful engines on the market for under $26k. These outputs push the SR and SR Premium towards the likes of the Volkswagen Golf GTI, which costs a good $16k more.
Not only that, the i30 does not require a minimum 98RON rated fuel, unlike its German rival. In fact, it is happy to run on 91RON fuel. The only area where the i30 acts within its price range is in the torque output. 265Nm is not class leading, but rather class customary.
In translation, on steep up hill climbs the well-placed gear ratios, combined with that turbo nip,  you won't be complaining. Getting up to speed feels wonderfully effortless thanks to the smooth clutch and gear selection from the six-speed manual. Peak torque comes in at a low 1500rpm, which also adds to the ease of momentum. Flat out, we timed 0-100km/h in 7.43 seconds, which is just behind the DCT auto version we clocked at 7.19 seconds, expectedly.
Hyundai's Australian engineering team have worked hard to develop a suspension setup that suits the local conditions. As a result, they have done away with the old-fashioned torsion beam found in less i30s, and instead implemented a multilink rear suspension setup. Attacking a fast corner and hitting a bump, the SR seems to take on whatever is thrown at it. You can tell Hyundai has spent a lot of effort here to make it really shine in compromising positions. It's quick to regain body control after hasty steering changes, too. You receive a good balance of feedback from the road, except at higher speeds.
In our opinion it can feel a little nervous to keep in a straight line, and it tends to require effort to keep in lane. Part of this is down to the less-than-perfect electric steering steering. It feels nice enough to turn but there isn't a huge amount of feedback and rapport, which could be seen as a bad thing in a car with an 'SR' badge. Keeping in mind that price though it's hard to stamp this in the concrete as a true drawback.
Low engine revs at higher speeds in the six-speed manual equates to a commendable fuel consumption reading on the freeway. Conversely, on average, it measures a little higher than its competition. Official fuel consumption figures rate the 1.6 at 7.5L/100km, which is the same in the automatic option. Our testing revealed 8.5L/100km. As mentioned, the i30 can run on 91-octane petrol which can save you at least $7 per tank of fuel.
2018 Hyundai i30 SR – THE VIDEO
2018 Hyundai i30 SR – THE VERDICT
The 2018 i30 is now one of the strongest contenders in this market space, easily. The standard feature list is impressive enough, but if you have an extra five grand to spend on the SR, the feature list keeps on going in a way that will send the competition into panic. Well, it's really eight grand as most buyers will opt for the automatic, especially as manuals miss out on some important safety tech. But, we think it's great Hyundai is keeping the manual alive for those of us who enjoy rowing through ratios ourselves.
PROS:
– Punchy and modern turbo engine, early torque
– Fun manual transmission
– Sporty and elegant design
– Outstanding standard features list
– Value for money

CONS:
– Steering lacks feel
– Red interior highlights clash with some exterior colours
– Manual misses out on some safety tech
As always, if you're thinking about buying a new car don't forget to click here to speak with our car buying specialists.