Following the unveiling of the latest generation R8, Audi has now released details of the upcoming all-electric R8 e-tron 2.0 supercar, and the figures are very, very impressive.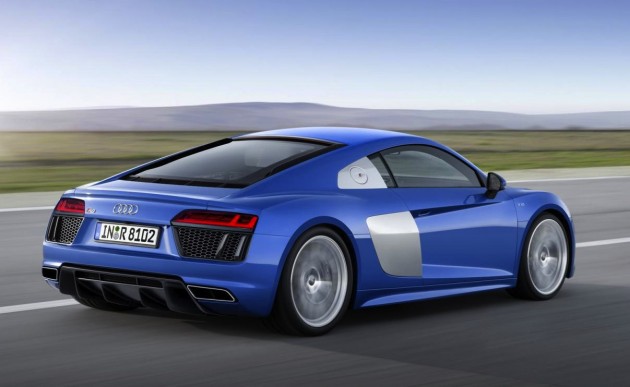 A couple of years ago Audi produced an electric, concept version of the first-generation R8, and now Audi has increased the capacity of the high-voltage lithium-ion batteries from 49kWh to 92kWh.
Power output from the setup is rated at 340kW and an insane 920Nm of torque. The R8 e-tron will silently sprint from 0-100km/h in 3.9 seconds, and will be capable of hitting a limited 210km/h top speed to conserve the battery's charge.
Audi claims the R8 e-tron has a range of 450km per charge, up from 215km in the previous concept version. There is also a new Combined Charging System (CCS) facility in the vehicle, which according to Audi can recharge the vehicle in "significantly less than two hours". The system can be utilised using both AC and DC currents.
As for the design, Audi hasn't released images yet but it is believed it will look very similar to the regular new R8 (as pictured). We can expect a more aerodynamic front grille section, potentially with smoothed over intakes and finer details.
You will be able to get your hands on the R8 e-tron 2.0 sometime later this year, but Audi is yet to confirm the price for the electric variant of its ever-popular R8. Audi Australia is yet to make any official announcements regarding the local market.