Remember the BMW M teaser from yesterday? It turns out BMW M wasn't planning to reveal the M2 as initially thought. Instead, it invented the 'Drift mob'.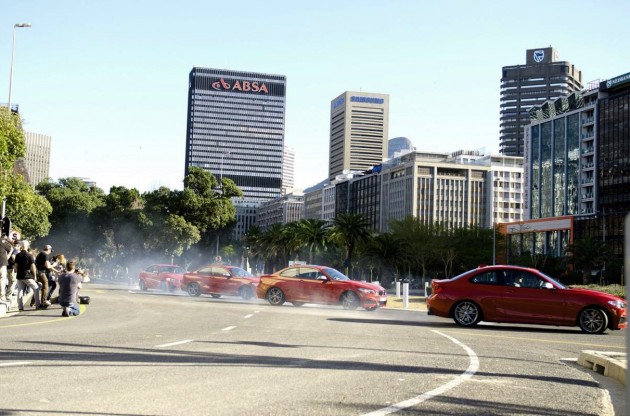 Using four BMW M235i sports coupes, a special 'drift mob' – like flash mob dancers – were organised in Cape Town, South Africa, to demonstrate the M235i's capabilities on a roundabout.
Of course, BMW M isn't promoting this kind of behaviour on the public streets, however, the M235i is more than capable of pulling a few shenanigans. It comes with a 3.0-litre turbo inline six producing 240kW and 450Nm.
BMW says some of Hollywood's best drivers were used in the making of the film, such as drift champ and stunt driver Rhys Millen. Millan said,
"It's amazingly simple to do a clean drift in this car. The weight balance, the steering, the brakes – everything's simply perfect for this purpose."
Incredibly, the setup was created on the spot with real onlookers watching on in disbelief. The whole scene was choreographed of course, and the road was closed shortly before it all began. There has also been some sped up sequences and footage editing. But the final product is quite a spectacle.
Click play below to take a look. The M235i is currently on sale in Australia with prices starting at $79,900 (excluding on-road costs).