Some interesting facts about the upcoming 2018 BMW X3 'G01' have seemingly been leaked via a code-cracked file, with indications of an M40i and M40d variant joining the lineup for the first time.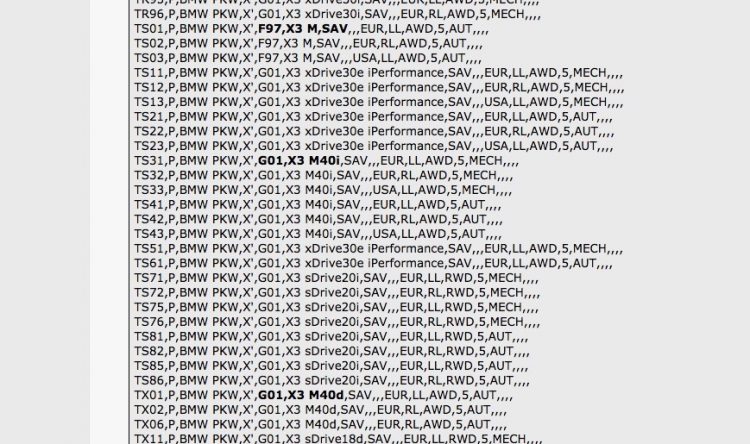 BMW doesn't currently offer an M Performance or even proper M version of the current X3 – in Australia we only get the X3 xDrive30d. According to a file cracked by a Bimmerpost forum member though, BMW is planning an M40i – a prototype was spotted last year that hinted this. This would likely borrow the 250kW inline six from the likes of the M240i and overseas-only X4 M40i.
Interestingly, there's also mention of an M40d. BMW doesn't currently offer any model with an "M40d" badge. It's unknown what engine this will include, but some are predicting the new quad-turbo diesel 3.0-litre from the 750d. In that the unit produces a whopping 294kW.
Another option, since it's only badged '40d' and not '50d', could be a tuned version of the existing single- and twin-turbo 3.0-litre. In some models the engine produces up to 225kW and 600Nm. This could be boosted to around 240kW.
Of course, there's also a chance BMW will debut a completely new 3.0-litre diesel tune with some pretty extensive revisions to help it keep up with modern emissions regulations and so on.
At the top of the range will be, as rumoured and even spotted in prototype form, a proper X3 M model. It's expected to feature an iteration of the current M3 3.0-litre straight six turbo. In the M3 the motor delivers up 317kW. This could be tweaked or detuned for the SUV, with no official confirmation as yet.
Other interesting variants for the next-gen X3, according to the file, include an iPerformance xDrive30e plug-in hybrid – the first hybrid X3 – and an xDrive40i featuring the 240kW straight six from other '40i' models.
It's unclear at this point which variants will be sold in what markets, but the M models in particular are a good chance for most global markets, especially Australia where performance models from BMW M, Audi RS, and Mercedes-AMG are very popular.
The new model is expected to arrive in showrooms some time next year, with a public debut potentially taking place later this year.