BMW has been spotted hurling a prototype version of the next-gen M5 around the Nurburgring in Germany. And judging by the footage, the new model is going to be extremely quick.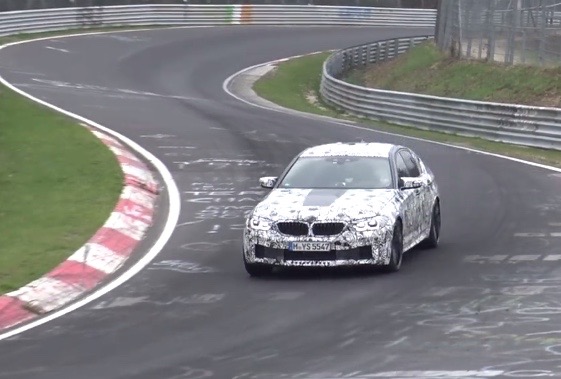 The new M5 will be based on the recently-introduced G30 5 Series, featuring a lower-profile design language with more advanced headlights, flowing panel lines, and a more horizontally-opposed rear end and taillight theme.
For the M5, industry speculation suggests it will keep the 4.4-litre twin-turbo V8 from the current model. However, M division is likely to tweak the unit to around 440kW and 750-800Nm.
From the engine is where things are expected to change drastically over the current model. There's strong hints that power will be sent through a torque-convertor eight-speed automatic, replacing the current seven-speed dual-clutch job.
The move is apparently being considered due to the sheer torque from the engine. On a similar note, power is set to be sent to an all-wheel drive system for the first time. Say, what?
Yep, the next M5 is likely to switch from being a rear-drive sideways king to an all-wheel drive all-weather beast. As you can see in the video below, the prototype has no real drama exiting corners at speed, with no evident oversteer.
As usual, the new-gen M5 is expected to be quicker in every way compared with the outgoing model. Some of this is set to come from the 5 Series's carbon-core platform, with the M5 potentially getting more carbon fibre in its construction than the regular 5er.
The prototype looks to be wearing a near production-ready body, which suggests BMW might unveil the car later this year. Click play below for a taste test, thanks to Automotive Mike YouTube channel.