There's been a number of reports and rumours in the recent past about the introduction of an ultra-compact Audi Q1 joining the range. The company has just confirmed such plans and released a preview sketch for some insight.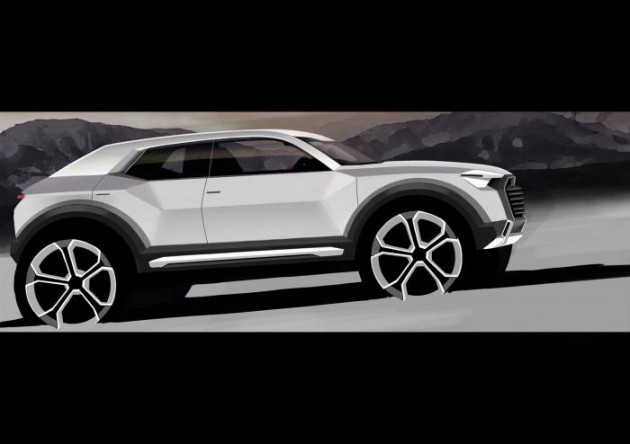 Set to be like an SUV version of the A1, which is currently the smallest model in the company's showroom range, the Q1 will reportedly measure just 3.8 metres in length. It will enter the market with virtually no direct competition, with BMW, Lexus and Mercedes-Benz yet to offer anything this small.
The new model will be designed on the company's modular transverse engine concept and will complete the lower end of the Q model range, sitting beneath the Q3.
Audi is planning to expand its product range from the current 49 models to more than 60 by 2020. The Q range is easily the most popular vehicle style for Audi, with SUV production set to make up around 28 per cent of total Audi production by the end of this year.
As for the details on the Q1, Audi is yet to announce anything specific. As you can see by the design sketch the new model is still in its early development stages.
The styling, at least from this sketch, is quite flamboyant, with muscular wheel arches and Audi's new slimline headlight layout. There's also a large front grille and a low 'chop-top' cabin structure. By the looks of it the Q1 will be a five-door model.
Power is likely to come from a range of turbo petrol and diesel engines, similar to those found in the A1. All-wheel drive is expected to make up most of the range with front-wheel drive possibly making up the entry side of the lineup.
Production will commence in 2016.