Ford Australia has confirmed a special edition FPV GT will be launched to signify the end of production at FPV. The new model will be called the FPV GT F.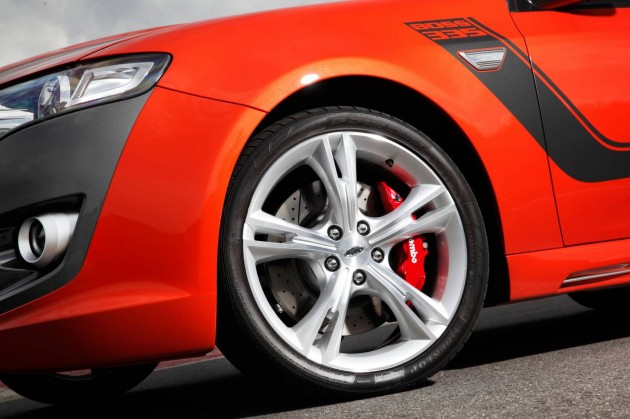 Meaning 'final', the GT F is set to be the last hurrah for all GT Falcons. In other words, it is going to be very special. Ford plans to launch just 550 units, including 50 in New Zealand.
Performance hasn't been announced yet but it will showcase the same handling package as seen on the GT R-SPEC from 2012. This means it will come with nine-inch rear wheels wearing 275/35 Dunlop Sports Maxx tyres.
In terms of design, Ford says the GT F will deliver a bold and expressive layout with some details harking back to the original Falcon GTs. Nick Eterovic, Ford Australia design manager, said,
"We knew we had to celebrate an icon so some of the visual design cues can trace their heritage back to the Ford GTs of the 1970s. There is a true sense of history and celebration with this car but we wanted to make sure that we retained the most exciting elements of the current FPV range, while modernising the design and adding fresh elements to the GT F."
The car will feature a 'stealth' stripe design with blacked-out highlights, inspired by Ford muscle cars of the 1970s, with matt black stripes. It will be available in five colour choices, including Kinetic blue, Octane orange, Silhouette black, Smoke dark grey, and Winter white.
Bob Graziano, president and CEO of Ford Australia, recently spoke about the importance of the GT F in a statement, saying,
"The entire team has worked tirelessly to develop a GT that will forever pay homage to the FPV brand and celebrate its iconic status among enthusiasts.

"The GT F is a celebration of the GT and of Ford's history in Australia and our dedicated team have made sure this vehicle can stand proudly beside any GT products of the past – and any Ford performance vehicles in future.

"These passionate staff will continue to design Ford vehicles into the future as part of Ford's 1100 strong design and engineering base in Australia."
A special Pursuit Ute will also be launched, with similar design features. It will be powered by the 'GS' specification 5.0-litre supercharged V8 with 315kW. Ford plans to make just 120 versions of the ute.
As for the GT F sedan, Ford has withheld engine power figures. However, as rumoured a couple of weeks ago the special edition is expected to pack 351kW to pay homage to the classic Falcon GT 351 of the 1960s and '70s.
The FPV GT F will go on sale from $77,990 while FPV Pursuit Ute special edition prices will start at $52,990. They will arrive on the market later this year.