Audi has been spotted test driving a prototype version of the next-gen Audi RS 5 performance coupe out on the Nurburgring, pushing the new V6 and some clever drive technologies to their limits.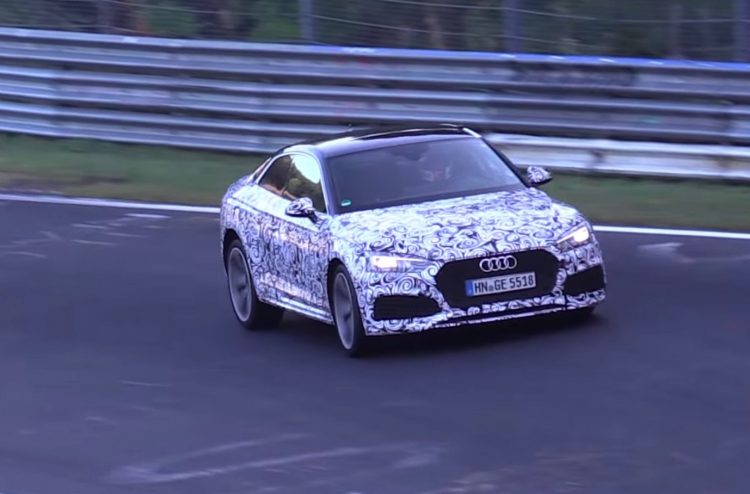 It's understood the next RS 5 will come with a special, next-gen torque vectoring control system that can brake individual wheels and send power to individual wheels to optimise traction and cornering speed. And it seems to be working very well, with this prototype really shifting around corners.
Audi is renowned for its quattro all-wheel drive system and it will continue the philosophy for the new RS 5. This makes it a unique contender in the performance coupe segment, with the BMW M4 and Mercedes-AMG C 63 both featuring rear-wheel drive.
According to an Autoblog report, Audi will be switching from the outgoing 4.2-litre naturally aspirated V8 to a Porsche-developed 2.9-litre twin-turbo V6. It's believed Audi has helped in the development of the new unit which made its debut in the 2017 Panamera.
In the Panamera S the V6 produces 324kW and 550Nm. Despite a drop in cylinders for the RS 5, the V6 engine could potentially see a 9kW drop in power but, more crucially, introduce another 120Nm compared with the outgoing 4.2 V8. Audi may even decide to up the power a little from the Panamera.
As for other areas, the 2018 RS 5 is expected to come with advanced LED headlights and taillights while adopting the sharper styling of the recently-revealed second-gen A5. It's also set to come with a mostly digital dash incorporating Audi's latest MMI.
Market introduction is likely to take place during the later stages of 2017. Click play below for a preview.