The 2018 Audi RS 4 Avant has been unveiled at the Frankfurt motor show in Germany, reviving the nameplate after a two-year hiatus.
As previously suspected, the new model forgoes a V8 and switches back to a turbocharged V6, like the original model in 2000. In the new model it's a 2.9-litre twin-turbo unit producing 331kW of power and 600Nm of torque. This is the same engine that debuted in the RS 5 a few weeks ago.
Despite dropping from a V8, the V6, with its higher torque output available between 1900-5000rpm, is able to cover the 0-100km/h sprint in just 4.1 seconds. This makes it 0.6 of a second quicker than the 331kW V8 predecessor.
Weighing in at 1790kg, part of the improvement in performance comes thanks to shedding around 80kg. And as you might have expected, the downsizing also brings down fuel consumption. Audi says the new model returns 8.8L./100km, dropping from 10.7L/100km of the V8.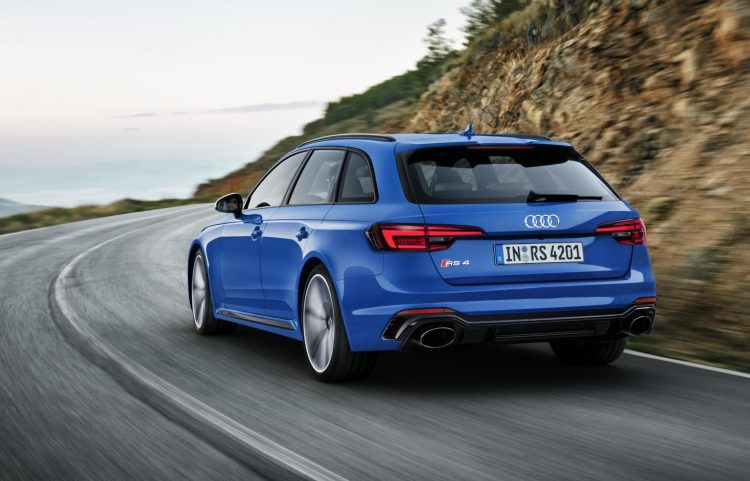 All of the power is channelled through an eight-speed automatic transmission, ditching the old dual-clutch auto, and feeding into an all-wheel drive system. A sport rear differential is available as an option to provide LSD-like grip and behaviour around corners.
As you would expect from a proper RS model, the new RS 4 comes with a sports suspension setup as standard, with Dynamic Ride Control available as an option. Carbon ceramic brakes are also optional, while the driver can toggle with the standard drive mode select system for various personalities.
Inside, it's a concoction of luxury and sportiness, with bespoke chunky seats, Audi's virtual cockpit digital instrument cluster, and of course Audi's typically exceptional build quality and suave design.
The new model will go on sale in Europe early in 2018, with a potential Australian introduction likely to take place later that year.