With so many tempting options in the small SUV market segment, it can be a headache figuring out which is the one to go for. One of the latest to join the rat race is the 2014 Nissan QASHQAI. Say what? Don't worry, behind the complex name is a successor to the Dualis. And that was an extremely popular model. So, should this new 'cash-kai' be fast-tracked to your shortlist?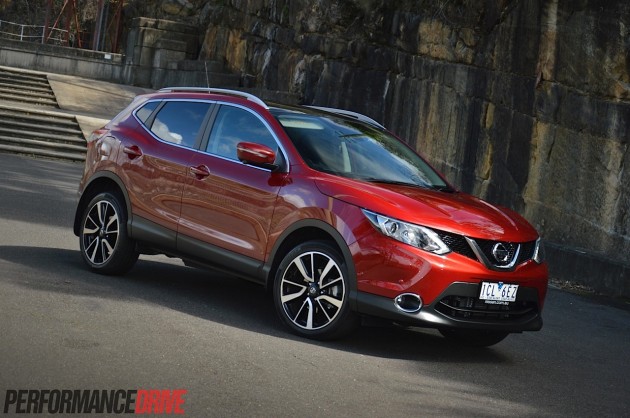 2014 Nissan QASHQAI TL – THE SPECS
Engine: 1.6-litre turbo-diesel four-cylinder
Output: 96kW@4000rpm / 320Nm@1750rpm
Transmission: Constantly variable auto (CVT)
Drive type: Front-wheel drive
Wheels: F: 19×7.0, 225/45  R: 19×7.0, 225/45
ANCAP: Five stars (scored 36.56 out of 37)
Kerb weight: 1637kg
Power-to-weight: 17:1 (kg:kW)
Official fuel economy: 4.9L/100km
Economy during test: 7.5L/100km
Fuel capacity/Type: 65L/Diesel
Power efficiency: 19.5kW:L/100km
0-100km/h as tested: 10.1 seconds
Priced from: $38,390
The QASHQAI is Nissan's second all-new SUV to be launched in Australia in the past couple of years. You probably haven't heard of the name but in fact it's a nameplate that's been around in Europe since 2007 (as the Euro-spec Dualis). There are four variant grades on offer in Australia, including the ST, Ti, TS, and the TL. Prices span from $25,850 to $38,390.
QASHQAI sales have been going very strong, especially in Europe where it recently broke the production record in the UK after hitting two million units in just eight years. In Australia the new model is off to a great start too. It is yet to catch the likes of the Hyundai ix35 and Mitsubishi ASX, but both of those are more familiar names to Australian buyers. So far this year the local arm has sold 1841 examples, which is excellent considering it has only been on sale since July.
We'll begin with what there is to like about the QASHQAI. The interior. Modern Nissan interiors seem to have a more up-market feel and look to them compared with the main rivals. And in the QASHQAI, particularly this top-spec TL model we're testing, the interior is rather classy. There are leather seats, electronically adjustable with heating functions in the front, and in the back you get a cushy bench with decent headroom and legroom for this class.
Buyers love these small SUVs because you get a high-riding and commanding driving position which allows you to peer over other drivers, but at the same time the vehicle isn't so big and chunky that it becomes difficult to manage. The QASHQAI walks that fine line very well. Visibility through the front is good and it's easy to predict where the rear corners are when parking. For added assurance, all QASHQAI models come with a rear-view camera as standard – a standout for this segment.
Another area to like about the new QASHQAI is the powertrain and handling dynamics. This category offers a wide range of vehicles that are all good in particular areas. While the Nissan is not the ultimate off-roader, being front-wheel drive, it more than makes up for it with good on-road manners. It offers neutral and flat handling, with a solid and connected feel to the road. There are two steering settings as well; normal and sport. The sport setting makes the wheel quite weighted and somewhat more engaging, while the normal mode is more regular.
With the range-topping TL you get a 1.6-litre turbo-diesel producing 96kW and 320Nm. We timed 0-100km/h in 10.1 seconds. It's not fast but it does okay, especially with the high torque figure available from just 1750rpm. What it doesn't bring in performance it makes up for in economy. The official rating is just 4.9L/100km – one of the lowest in the class – and we averaged 7.5L/100km in real-world conditions. If fuel economy is a high priority in your criteria, note down the QASHQAI as a standout.
In terms of areas that could do with some attention, one of them is the engine power. It's not a deal breaker, but with just 96kW written on the spec sheet, it is one of the least powerful in this segment. Luckily, the torque does compensate. To most buyers it is not going to be an issue. For more sporting drivers like us, it would be nice to have a little more grunt in the top end and when overtaking on the freeway.
The other slight niggle we have with the cash-kai is the exterior design. It's modern and looks quite appealing. But we think it's a bit lazy; it looks just the same as all other Nissan SUVs. Whether this is a bad thing or not is plainly up to you. Many carmakers do this and we find it annoying. Most of us like a bit of exclusivity, after all, it's what helps shape our personalities. And with the QASHQAI it looks like the designers ran the X-Trail through the photocopier at 75 per cent.
Aside from these two minor imperfections, the Nissan QASHQAI is a highly recommended vehicle. It is one of the more premium-feeling propositions. It's impressively equipped with essential nicknacks and modern technologies. It's quite fuel efficient, and it basically drives like a hatch with good handling and steering.
We place it as one of the top three contenders that you should look into, along with the Volkswagen Tiguan and Mitsubishi ASX. To answer the original question, yes, this is one to go straight onto your shortlist. As always, we suggest taking a few different models for a test drive to see what suits you best. Click play on the video below in the meantime to see and hear how the QASHQAI TL turbo-diesel performs.