Hot hatch fans can finally rejoice as Renault has officially unveiled the 2018 Megane R.S. at the Frankfurt motor show. It will be available in two different specifications and with two different chassis tunes.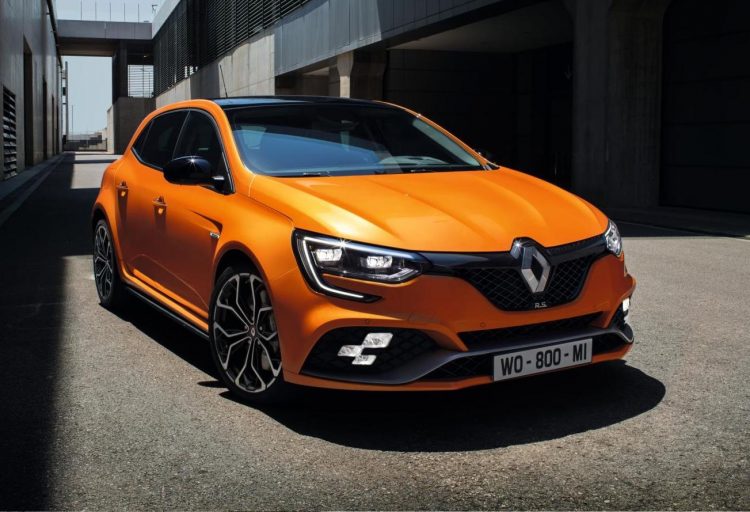 The regular Megane R.S. comes with a 1.8-litre turbocharged four-cylinder producing an impressive 206kW (280PS) of power at 6000rpm, and 390Nm of torque between 2400-5000rpm. A higher-output Trophy version takes this to 221kW (300PS). These are some pretty wild figures for a 1.8-litre engine.
As we already know, Renault will be offering both a six-speed manual and six-speed dual-clutch automatic, giving drivers a choice of old-school or new tech. Both use a front-wheel drive system following its heritage, with a sophisticated PerfoHub steering axis front suspension system.
Renault will be offering a Cup chassis and Sport chassis, both of which adopt an all-new 4CONTROL four-wheel steering system. This is worked in with a sports suspension setup with hydraulic compression stops like what are featured on racing cars. These help provide a comfort-style setting for the Sport chassis and finer control for the Cup chassis. A limited-slip differential adds a level of seriousness to the Cup chassis as standard.
As for the design, the Renault Sport model takes on a chunky, rally-like appearance with deep air intakes in the front end and an aggressive diffuser at the back, along with side vents in the bulging front guards, with a single albeit large centrally-mounted exhaust pipe out the back. In fact, the wheel arches are pumped out 60mm at the front and 45mm at the rear compared with the regular Megane.
Taking a look inside and you'll see it's all about driving. There's a set of hip-hugging bucket seats in the front, with either carbon fibre weave or Alcantara trimming, highlighted by red stitching for added sportiness. An R.S. monitor is incorporated into the R-LINK 2 media interface, with an Expert app allowing drivers to plug in a camera to film driving sessions. It's all displayed though an 8.7-inch TFT screen.
Renault will be launching the new model in Europe during the first half of 2018. The Trophy variant will launch before the end of 2018.